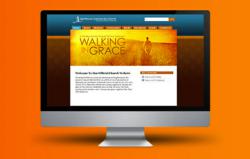 "Churches can't get nice websites because churches can't pony up the cash."
Ashland, OR (PRWEB) September 07, 2011
Cash is not exactly plenteous in most churches. This fact is evident, as statistics show that 95% of churches in the United States have 100 members or less, and less than one-third of the average church membership does any considerable giving at all (e.g., contributing 10%, or a "tithe" of their income). Needless to say, churches cannot do as many things, employ as many people, and help out as many causes as they wish. When an item like "website" is placed into the budget consideration, it is something few churches can even consider.
Why Can't Churches Have Nice Websites?
Churches are notorious for home-cooked, defunct websites that look like an HTML nightmare rather than an attractive web presence for a house of worship. Some church websites, on the other hand, may look halfway decent, but they haven't been updated in nine years. That's a problem. At the root of the problem is cost. Churches rarely have nice websites because churches rarely have enough cash to pay the building mortgage and the pastor's salary, let alone the luxury of a church website.
The average church website costs $3,000. As websites go, that's not a bad price. However, for the typical church budget, $3,000 is a whole lot of filthy lucre. The nation's widespread financial malaise and unsettling unemployment statistics bode ill for church budgets. The challenge persists like a nagging back pain: churches can't get nice websites because churches can't pony up the cash.
Strategic Web Companies to the Rescue
Since the median price of a church website is around $3,000, several companies have offered alternatives with lower costs. One popular church website option offers a flat $1,000 fee for the church website. With slick marketing slogans like "websites made for people, not programmers," this company provides an aesthetic website experience. What they offer in aesthetics, however, they lack in functionality, power, integration, and customizability. Furthermore, with a hefty $30 monthly hosting fee, the cost of the church website is still intimidating. Other church website options offer a lower startup cost, but stick the church with pricey maintenance costs. Take for example, a company that offers a low-cost template website setup for churches, but locks those churches into the company's proprietary CMS which demands high monthly costs. Now, the church website is up there, but the cost spirals upward in to the tens of thousands after just a couple years of a web presence. It's almost worse than credit card debt.
Unfortunately, many churches are all-too eager to jump on what they perceive as a bargain lower price, only to find out that they are saddles with high costs, a clunky website, or a code that no one can decipher. Selecting a church website seems to be an exercise in picking the lesser of several evils. Most churches, however, are loathe to pick any of the evils.
A Budget-Minded Alternative
Thankfully, for the budget-minded church (and isn't that most of them?), there is a cost-effective alternative. Well, two alternatives, actually. The first alternative is to design a website in house. If a church already employs a full-time web developer, programmer, designer, and information architect, that's great. Go right ahead and make a snazzy church website. By the way, hiring a firm to do all that, starts the church website price tag at about $5,000, no bells and whistles included.
That was one option.
There's a better one.
In a word, it's called Sharefaith. Sharefaith, longtime giant in the church media industry, has developed an entire new business segment that provides church websites. Calling these Internet wonders "websites" is like calling the Palace of Versailles a "cottage." Sharefaith websites provide full-bore functionality, power, customization, integration, cutting-edge tools, options, stunning designs, absolute simplicity, and more — all for a minuscule fraction of the cost of a typical church website.
In fact, Sharefaith church websites are free.
Free? What's the catch? The "catch" is that Sharefaith membership is required to create a church website. Being a member means that for a small annual fee, a church has unlimited access to the world's largest collection of church media. Not a bad side effect of having a church website. Beyond that, there is the hosting fee—the monthly recurring cost required to keep a website on the Internet. That cost is $8.99/mo. Since nearly 19,000 churches are already members of Sharefaith, there is a good chunk of the church population that has a church website waiting to happen. A nice one.
Already, hundreds of churches have taken the budget-minded alternative and launched their Sharefaith church website. The results have been spectacular, resulting in tens of thousands of dollars of saved money, increased visibility, higher attendance, greater ministry reach, and so much more. There is a lot of impact to providing a low-cost church website solution.
For churches, budget is important. The challenges to a church budget do not disappear when faced with the consideration of creating or revamping a church website. To that end, Sharefaith is a powerful alternative for churches that want top-notch church websites without having to pay top-dollar web fees. Enter the new age of church websites, where saving money is easy, uploading websites is simple, and making websites look good is already taken care of. Enter Sharefaith church websites.
###