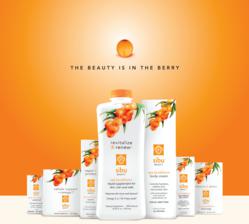 Salt Lake City, UT (PRWEB) September 07, 2011
Sibu Beauty, the maker of 100% natural beauty and wellness products based on sea buckthorn berry and at the forefront of introducing the Himalayan superfruit to the Western world, is now a part of PETA's cruelty-free program.
According to Sibu Beauty President, Peter McMullin, "Since the inception of our company a few years ago our philosophy was to make natural products that were clean, safe and environmentally sustainable. This is accomplished through our harvesting and manufacturing processes. Our berries are sourced from Tibet through a fair-trade agreement that originates with our corporate and personal commitment to employ local workers and also leave the beauty of the natural environment unscathed. The miraculous berries are collected by shaking the bushes and only the ripened fruit falls onto burlap ground cloths. This is the same method that the indigenous people have used for centuries to harvest sea buckthorn. Shortly after being harvested, the berries are processed and then shipped to the U.S. where the finished products are made. We made the decision early-on to develop a line that was free of parabens, gluten, and dairy and was cruelty-free."
McMullin added, "Being a part of the PETA program and having the ability to use the pink bunny emblem on our product line was extremely important to us and will stand alongside our certification from the Forest Stewardship Council (FSC), a non-profit organization that is devoted to encouraging the responsible management of the world's forests."
Sibu Beauty offers a complete line of sea buckthorn based natural and USDA organic products that are nourishing to the skin, hair and nails. Sea Buckthorn is packed with a nutrient-rich combination of over 190 bio-actives, vitamins and is a powerful source of Omegas 3, 6, and 9, as well as a rich source of the elusive, naturally occurring essential fatty acid, Omega-7 (Palmitoleic acid), which is vital to collagen and mucus membrane production.
Sibu Beauty products can be purchased online at Sibu Beauty's Online Store or can be found in the aisles of many leading retailers including select GNC stores, Whole Foods Markets, Akins Natural Food, Chamberlin's Market, Sprouts, New Seasons and Sunflower Markets, as well as hundreds of specialty retailers throughout the U.S. and Canada.
For more information about Sibu Beauty and the health benefits about the powerful and nutrient-rich sea buckthorn berry, please visit http://www.sibubeauty.com.
About Sibu Beauty
Sibu Beauty (http://www.sibubeauty.com) was introduced in early 2009 to provide customers worldwide with a comprehensive approach to beauty from the inside out and outside in. The Sibu Beauty product line is based on a powerful and distinctive whole food source, the sea buckthorn berry. This super food is backed by hundreds of scientific studies demonstrating its success at addressing a variety of consumer needs including improved skin tone and texture, healthy aging and digestive health and noticeable improvements in cardiovascular fitness, energy and weight loss.
About Sibu, LLC
The products of Sibu Beauty - a subsidiary of Sibu, LLC (http://www.sibu.com), "The Sea Buckthorn Company" - are made with only premium sea buckthorn berries exclusively grown and harvested for the company in the Himalayan Mountains of Tibet. The company's meticulous harvesting process results in a more hardy and potent berry. Sibu's proprietary manufacturing process maximizes the efficacy of sea buckthorn raws, producing one of the most nutrient dense sea buckthorn products available on the market today. The Tibetan villagers who are responsible for harvesting Sibu Beauty's sea buckthorn berries benefit from a fair trade agreement, safe and healthy working conditions and environmentally responsible practices that ensure they will enjoy the benefits of the sea buckthorn harvest for years to come.
About PETA and Caring Consumer
PETA, with more than 2 million members and supporters, is the largest animal rights organization in the world. Through its Caring Consumer program, PETA gathers information on the animal testing policies of cosmetics and household product companies, helps companies end cruel and crude animal tests, obtains signed statements of assurance from companies that meet its cruelty-free criteria, and shares this information with the public. Although more than 1,100 cosmetics and household product companies have banned animal tests, some still force substances into animals' stomachs and drip chemicals into their eyes. PETA's Cruelty-Free Shopping Guide and online searchable database are the ultimate resources for conscientious shoppers who strive to support only companies who have implemented a permanent ban against animal testing.
These statements have not been evaluated by the Food and Drug Administration. These products are not intended to diagnose, cure or prevent disease.
###