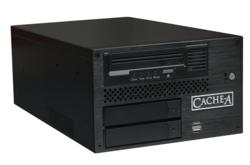 "Our mission is to make archiving easy by including all of the required hardware and software to provide a complete solution right out of the box"
-- Phil Ritti, President and CEO, Cache-A
Morgan Hill, CA (PRWEB) September 07, 2011
Cache-A Corporation's Pro-Cache5 archive appliance is the proud recipient of Creative COW's Blue Ribbon Award for "Best Archiving System" at NAB 2011. Every year, Creative COW's editors feel the pulse of the industry by monitoring the feedback from more than 1.7 million monthly visitors in the months following NAB. Creative COW then announces the products and technologies that working professionals have identified as most likely to have the biggest impact on their future. Cache-A's Pro-Cache5 archive appliance was selected as one of these technologies.
"We are truly honored that our flagship product – Pro-Cache5 – has earned this very prestigious industry award from the Creative COW community," said Phil Ritti, President and CEO of Cache-A Corporation. "We have a lot of respect for Creative COW's peer-to-peer support community for digital media professionals. We were particularly pleased that Bob Zelin, one of the most interested, involved and knowledgeable contributors to the COW's Forums, reported on the award.
"Our mission is to make archiving easy by including all of the required hardware and software to provide a complete solution right out of the box," he continued. "Archiving to us means not only preserving the assets of digital media professionals, but providing easy access to that content at any stage of their file-based workflows."
Pro-Cache5: Extending Data Tape's Key Role in Content Retention & Archiving
One of the first LTO-5 archive products on the market, Pro-Cache5 offers nearly double the storage capacity of existing LTO-4 cartridges – 1.5 terabytes (TB)/LTO-5 cartridge -- while also providing significantly faster archiving speeds.
Building on the highly adaptable Pro-Cache platform, the small form factor Pro-Cache5 enables creative professionals to create source masters in acquisition workflows while also providing long-term archival storage with easy access to content assets at every stage of production.
Leveraging the technical innovations of LTO-5, Pro-Cache5 further extends data tape's key role in ensuring long-term content retention, archiving and disaster recovery. Pro-Cache5 writes data on low-cost, secure, portable, interchangeable and IT industry-standard LTO-5 tape cartridges using the standard "tar" format or the new LTFS (Linear Tape File System) format, with a 30-year archive life. LTO-5 offers read/write compatibility with LTO-4 to ensure a truly future-proof solution that protects investments, eases implementation and permits source master content to be accessed over a long period of time.
"How can you beat Cache-A?" asked Creative COW Contributing Editor Zelin. "They dropped their price on the 800GB Prime-Cache LTO-4 while introducing the new, cost-effective 1500GB LTO-5-based Prime-Cache5, and they still offer the smartest LTO archive products on the market."
Creative COW's Blue Ribbon User's Choice Awards are unique in that they are bestowed, not by magazine editors, but by the CreativeCOW.net community as a whole, which includes current and potential customers for these products.
Creative COW's editorial staff tracks discussions in the CreativeCOW.net user forums, blogs and feeds to find the most lauded products from the NAB Show. The editors take into account the insights offered by some of the highest-level working professionals who lead both the Creative COW community and the industry as a whole over a period of two months after the NAB show ends before awarding a Blue Ribbon. The waiting period allows for Creative COW to award products that have made true, lasting impressions rather than the quick reactions that are commonplace while on the floor of a large trade show.
About Cache-A Corporation
Cache-A is a leading supplier of network-attached archive appliances for the media and entertainment industry. Cache-A's archive appliances can easily archive source masters for production or entire projects for post-production using the secure, portable, interchangeable, industry standard LTFS or tar format on LTO-5 media.
http://www.Cache-A.com
About Creative COW
CreativeCOW.net is the peer-to-peer support resource for professionals in film, broadcast and related fields. Founded in 2001, Creative COW has grown to serve more than 1.7 million media professionals every month. Creative COW Magazine was founded in 2005, and with more than 118,000 readers, is the leading film and broadcast trade publication. In addition to online communities and magazines, Creative COW, LLC includes news and jobs listings, electronic newsletters and online and DVD training. Creative COW Foundation is a non-profit organization providing scholarships in media education, with 100% of raised funds going into programs. For more information about Creative COW, visit http://www.creativecow.net
###