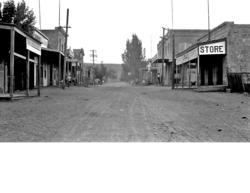 In 1861, Congress created the Nevada Territory also naming Lyon County, which is one of the first of nine counties in Nevada Territory.
Dayton, NV (PRWEB) September 08, 2011
Along America's Loneliest Road is the town of Dayton where gold was first discovered in Nevada. Dayton's roots began in 1849 at the mouth of the Gold Canyon where the gold discovery led the way to the 'Big Bonanza' mining boom on the Comstock, and Dayton became the milling, agricultural and commercial hub for the Comstock gold and silver rush. It was then that Dayton was named the county seat leading Nevada to its statehood in 1864. Dayton is a short drive from both Reno and Carson City, 42 miles south of Reno and approximately 15 miles north east of Carson City.
The 2011 Dayton Valley Days event is filled with the energy of a town proud of its heritage and Lyon County's 150th Birthday. The event originated in 1989 as a fundraiser to bring "The Arts" to local school children; now it raises funds to preserve Old Town Dayton and to share its historical significance in the origins of Nevada. Festival activities take place September 17 and 18 along Main Street and various historic town locations.
This year's festival highlights the showing of the award winning film, "Dayton, Nev. Pure Gold", highlighting Dayton's history. The film won a Silver Remy Award at the Houston Film Festival earlier this year. Sponsored by the Historical Society of Dayton Valley, the film will be shown both Saturday, Sept. 17 and Sun. Sept. 18 throughout the day between 10 a.m. and 4 p.m. at the Dayton Valley Community Center. In addition, an old photograph display of Lyon County will be on display.
Movie "buffs" may also like to know that in 1960 Marilyn Monroe and Clark Gable filmed their final movie in Old Town Dayton. The climax of the movie takes place on a dry lake bed east of Dayton off Highway 50 that is now called "Misfits Flat". In 2010 the John Huston's film, The Misfits, celebrated its 50th Anniversary.
"Dayton Valley Days is truly a celebration of our town's history," said historian Laura Tennant. "In 1861, Congress created the Nevada Territory also naming Lyon County, which is one of the first of nine counties in Nevada Territory."
A parade down Main Street kicks off Dayton Valley Days on Saturday at 10 a.m. featuring floats, classic cars, participants in era costume, music and much more.Weekend event highlights include: The Dayton Valley Car Club's 9th Annual Show-N-Shine Classic Car Show; a Silent Auction; an additional parade with just pets and games for both children and adults along with Battle Born Civil War skirmish reenactments at Pradere Field on Saturday, Sept 17 at 1 p.m. and 4 p.m. and Sunday, Sept. 18 at 1 p.m.
Dayton's proximity to the Carson River, a large water source, was another factor in the town's historical significance and prosperity back in the 1800's. The Carson River made living in the high desert possible by providing water for the farmers and ranchers, gold and silver ore processors (stamp mills) and people living and working in and around the valley.
Dayton was made famous for being a milling town due to the Carson River. It is also home to a State Park featuring Rock Point Mill. This Mill was built in 1861 and was once used to process rich silver ore from nearby Virginia City. The Carson River flows through the Dayton State Park offering a wealth of fishing and bird watching. There is an interpretive trail to study nature along with picnicking and camping. There are also facilities for group events.
Now Dayton's commercial center consists of several historical sites: An original rock wall of the Pony Express route still exists next to the Union Hotel along with a monument notating its history. The old stone Schoolhouse Museum on Shady Lane is open weekly and dates back to 1865. The 1875 firehouse and jail have been restored with the Nevada Cultural Affairs Commission's preservation funds.
Dayton Valley Days is made possible by sponsors and volunteers including the Lyon County Sheriff's Search and Rescue and The Boys & Girls Club of Mason Valley.
Dayton is one of six friendly communities along Nevada's Pony Express Trail Hwy 50.
Nevada's Pony Express Territory welcomes the media to its new online press room with exclusive high res photography and fresh story ideas. We're available to help you tour, customize your story, and more.
About the Pony Express Territory
Nevada's Pony Express Territory sits on 17 million acres of wide open space with 150 years of rich history, rugged undisturbed nature and black night skies. The Territory is where the Pony Express riders once galloped along its main trail, now Highway 50, connecting the six adventurous towns of Dayton, Fallon, Fernley, Austin, Eureka and Ely.
Follow us on Facebook: http://www.facebook.com/pages/Pony-Express-Nevada/115945638472057
# # #