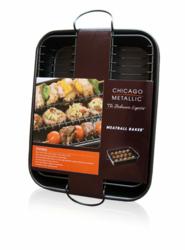 "Both products are examples of what true product innovation and product problem-solving development represent," said XHP President Scott Nicholson.
New York, N.Y. (PRWEB) September 08, 2011
Two innovative new kitchen products – a baking pan designed to create a healthier, tastier meatball and a product that keeps all breading ingredients neat and organized – have been featured on the CBS morning news program, "The Early Show." The Meatball Baker and Bread It Ultimate Breading Station, which are manufactured by Xtraordinary Home Products (XHP), are highlighted in the show's recent profile of Inventionland, where the products were initially developed.
In the segment, CBS contributor Taryn Winter Brill tours Davison's Inventionland, a creative design facility that turns ideas into affordable, everyday products. The workspace, where designers work in a life-size pirate ship, a waterfall-draped cavern and an office treehouse, is as innovative as the inventions created there.
Following her visit to Inventionland, Brill brings the products to the CBS studio to show anchors Chris Wragge and Erica Hill. "I love this," says Brill of the Bread It. "If you ever tried to make chicken cutlets, you have the three bowls of the egg, the flour, the chicken, and it's a mess. This creates it for you, which is really great."
Both products were designed in Inventionland by Davison, then brought to market by Xtraordinary Home Products, a company specializing in – you guessed it – extraordinary products for the home! The Bread-It, which was designed in Inventionland specifically for XHP, is a multi-use set of deep, collapsible and detachable bowls. The product made its marketplace debut earlier this year on QVC, where presenter Marie Louise Ludwig described it as the "perfect" solution to a common problem. "The bowls are longer and deeper, so you can bread food correctly," said Ludwig.
Since it hit the market in 2009, the Meatball Baker, which is marketed under the Chicago Metallic Brand, has had several sell-outs on QVC and more than 100,000 units have been sold. The unique product was developed from the idea of an inventor client of Davison's Inventionland. It was quickly licensed by XHP, whose executives knew a great idea when they saw it!
"Both products are examples of what true product innovation and product problem-solving development represent," said XHP President Scott Nicholson. "Whenever you offer the consumer an easier, simpler, or less messy way to cook, they normally respond to that product favorably; which has been the case with both of these unique products."
Nicholson continued: "Another key is healthy eating. Offer a way for consumers to eat the foods they love, but healthier versions of the foods without loss of taste and flavor, and you have a winner. Hence, the Meatball Baker!"
The Meatball Baker is available at Bed Bath & Beyond, as well as dozens of online retailers, including Montgomery Ward; the Bread It Ultimate Breading Station is available on QVC.com, with additional stores expected soon.
Inventionland is the creative design facility of Davison, a new product development company that has created a method of building ideas into products that makes the process affordable for inventors, corporations and entrepreneurs. Products and packaging solutions designed by Davison have sold in more than 1,000 stores. For more information, go to http://www.davison.com.
Xtraordinary Home Products is a division of Focus Products Group, LLC. The corporation, formed by a team of housewares industry executives, has emerged as one of the most exciting, new suppliers in the industry by creating and sourcing some of the most innovative and functionally unique housewares products on the market. For more information on the products or XHP, contact Focus Products Group customer service at 877-310-9102.
###