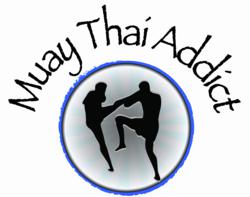 US-based Muay Thai Addict, Inc. is quickly establishing itself as THE one-stop online shop for all Muay Thai training apparel and gear needs.
Palm Springs, FL (PRWEB) September 08, 2011
Recognizing a great void in the availability of Muay Thai training apparel and gear, in the US market particularly, Muay Thai Addict, Inc. jumped at the opportunity to do a great amount of research to bring Muay Thai addicts all over the world the highest quality apparel and gear for Muay Thai training and competition. Muay Thai Addict, Inc. headquarters are based in South Florida but the shop is actually on the world-wide web and the products are available to customers all over the world. Muay Thai Addict, Inc. products are also being sold in local Muay Thai training gyms throughout South Florida. The soft launch of the company took place just a few months ago but the dedication to quality is already making an impression, both in the local South Florida markets and nationwide.
Muay Thai Addict, Inc. was born after an invested search for traditional Muay Thai shorts took a substantial amount of time and the order for those shorts carried a delivery time of about 6 weeks from an overseas retailer. With the popularity of Muay Thai booming in the US, there was an opportunity to find a way to manufacture high quality Muay Thai shorts and all other Muay Thai apparel and gear and offer it at competitive prices with fair delivery times. This was a challenge but what Muay Thai enthusiast isn't up for a challenge?
The mission of Muay Thai Addict, Inc. begins with offering high quality product but it does not end there. Muay Thai Addict, Inc. aims to exceed expectations with regard to customer service in all aspects including: price point, delivery times, delivery options, and product selection. Beyond this, Muay Thai Addict, Inc. aims to serve as an up-to-the-minute information portal, delivering news and relevant announcements related to all things Muay Thai, including Events and Featured Fighter interviews.
Muay Thai Addict, Inc. currently offers a wide array of high quality custom made Muay Thai training apparel including shorts, t-shirts, warm up sweatpants, warm up hooded sweatshirts, and Flexfit hats, all with the full color Muay Thai Addict logo. T-shirts and hats are made of organic fabrics. In addition to these products, Muay Thai Addict offers custom boil and bite mouth guards, hand wraps and hand-crafted traditional Prajioud arm bands in a variety of colors. A selection of boxing gloves, shin guards, and ankle protectors are currently in the final stages of development and will be added to the product selection shortly. Muay Thai Addict, Inc. carries sizes for men, women and children and comments about products or suggestions for additional products are welcome through the online shop's Contact page.
For more information about Muay Thai Addict, Inc. visit the online shop at http://www.muaythaiaddict.com, 'Like' the company's new Facebook page at http://www.facebook.com/#!/pages/Muay-Thai-Addict/145044175553249, or email Magaly(at)muaythaiaddict(dot)com for Press Inquiries.
###