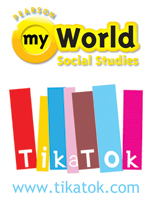 New York and Boston (PRWEB) September 08, 2011
Pearson, the leading learning company, and Tikatok, the leading children's publishing platform and a Barnes & Noble company, today announced a long-term, strategic partnership to fully integrate an interactive digital platform for creating personalized online storybooks with Pearson's new myWorld Social Studies elementary grades program. The new curriculum is available for review by educators now and will be in classrooms for the 2012-2013 school year.
The partnership represents a major breakthrough as teachers can -- for the first time -- incorporate the latest digital storytelling technology from Tikatok into the Pearson social studies curriculum. With the storytelling process embedded at every step of the curriculum, students will continually make personal connections, develop critical thinking skills, and express themselves in writing – all aimed at engaging and motivating them to excel.
Social studies teachers testing the myStoryBook platform said it was "an excellent way to highlight what students learned - so many excellent features are incorporated" and that digital storytelling "would be a powerful motivator and a great instructional tool."
A growing body of research points to the effectiveness of digital storytelling as an educational tool to engage students, to empower them as writers, and to ensure they can retain and comprehend information. Digital storytelling ensures students "know their facts, make decisions about the key elements, and shape those within the parameters of telling a story. Such work involves high-level information literacy, critical thinking and creativity; the result is an original and authentic product of the child's knowledge and imagination," said Dr. Lesley Farmer, Professor California State University, Long Beach, in her report Using Technology for Digital Storytelling: Tools for Children.
By fully integrating Tikatok's StorySpark™ proprietary system, myWorld Social Studies will enable students to develop critical skills including

writing proficiency;
vocabulary and reading comprehension;
creative, independent and inventive thinking;
collaboration, social interaction, and personal communication; and
creation of high-quality products.
As they review the student-created digital books, teachers can provide feedback and authentically assess student knowledge of core content and skills. In addition, students will be able to share their stories with other classmates and comment on each other's work.
"With myStoryBook from Tikatok integrated into myWorld Social Studies, students become engaged on a personal level to explore concepts, build knowledge, and transfer what they have learned for deeper and lasting comprehension and understanding," said Lynda Cloud, Pearson's senior vice president. "Storytelling is the oldest means of conveying knowledge, and myStoryBook encourages our tech savvy students to make personal connections with social studies content in a digital world that is meaningful to them."
"This partnership is extremely important to us, as we strongly believe it will change the way teachers will teach, and students will learn in the classroom," said Sharon Kan, Co-Founder and General Manager of Tikatok at Barnes & Noble. "We've spent a great deal of time, research and energy with Pearson planning this collaboration and determining the best way to reach and engage with students in the classroom. With myStoryBook the lessons are exciting, visual, and interactive, and we are thrilled to see Tikatok's unique storytelling platform officially incorporated into the curriculum to help students engage with social studies content and write non-fiction stories."
About myWorld Social Studies and Pearson
myWorld Social Studies will be released nationally for classroom implementation during the 2012-2013 school year. With myWorld Social Studies, teachers can make the most out of limited instructional time to cover academic standards with print, digital and blended learning opportunities, while reinforcing reading and writing skills found in the Common Core State Standards.
Pearson has as its mission to work side-by-side with states, districts, teachers, students and parents to ensure that every child is prepared for college and career (NYSE: PSO). http://www.pearsoned.com
About Tikatok and Barnes & Noble, Inc.
Tikatok (http://www.tikatok.com), a Barnes & Noble company, is the leading children's publishing platform. Using Tikatok, children can create, share and publish their very own books. Tikatok, has received numerous awards, including the Mom's Choice Award, a Parent's Choice Award, and a National Parenting Publications Award.
Barnes & Noble, Inc., the world's largest bookseller and a Fortune 500 company, operates 704 bookstores in 50 states. Barnes & Noble College Booksellers, LLC, a wholly-owned subsidiary of Barnes & Noble, also operates 635 college bookstores. Barnes & Noble conducts its online business through BN.com (http://www.bn.com), one of the Web's largest e-commerce sites.
Contact, press only:
Tikatok: Kerry Metzdorf, kerry(at)plumadvisors(dot)com, 978-463-2575
Pearson: Stacy Skelly, stacy.skelly(at)pearson(dot)com, 800-745-8489
# # #