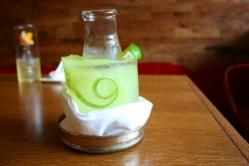 We want to make them taste good, not just look good.
Chicago, Illinois (PRWEB) September 08, 2011
iNG's new patio cocktails are garnering a great deal of buzz due to the flavor and temperature changing take on traditional cocktails. Gin and Tonic on The Rock is served in a frozen flask made of lime juice. The Hot Toddy & Arnold Palmer is served in a tea pot and tea cup with coiled tubes connecting to a beaker. At first sip, the Hot Toddy consists of gin, Earl Grey tea, Pimms and lemon, but with mberry, it turns into a sweet Arnold Palmer. However, the ingenious designs of iNG's futuristic mberry cocktails are not enough. iNG brewer and mixologist, Trevor Rose-Hamblin says, "We want to make them taste good, not just look good."
All of iNG's patio cocktails are completely sugar-free--even the Skinny Margarita Under a Tequila Sunrise. This is because the miracle berries bring out the natural sweetness in the ingredients so there's no need to add sugar. Now customers can enjoy their favorite drinks in a unique way without worrying about any extra calories. Rose-Hamblin adds, the only problem with the drinks is, "they taste so good after you start tripping, customers guzzle them down!"
The flavor-tripping effect last for about 45 minutes, so just long enough to enjoy a cocktail and have a clean palette for dinner. Complimentary snacks are offered along with cocktails which makes the flavor-tripping complete. After a full week of 12-hour days, iNG has perfected their flavor-changing cocktails and are offering their guests an unparalleled taste experience that has yet to be rivaled.
Contact:
Lauren Brice
mberry
681 W Wildhorse Dr.
Chandler, Arizona 85286,
United States
Tel: 480.248.9962 ex 102
http://mberry.us
###