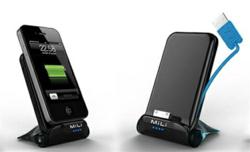 West Hurley, New York (PRWEB) September 07, 2011
MiLi®, specialized in design and development of digital battery and charging, announces the release of the MiLi Power Cooper battery stand. With standard MiLi aesthetic finish, Power Cooper has a smooth black finish, highlighted with blue stripes on a curvy stand. Equipped with a 3,000 mAh lithium polymer battery, the Power Cooper packs enough charge to triple your iPhone battery life. The Power Cooper comes with a built-in USB cable for the convenience of never having to carry around a cable. The folding stand provides optimal viewing angles for both Facetime and movie watching. With open docking, it becomes the first one-for-all battery stand for iPhones & iPods Available at MiLi Power for $69.99.
MiLi Power Cooper features include:

Battery stand with open docking designed for iPhone &iPod
Pass-through USB/mini-USB allows you to charge and sync your iPhone without removing case
3,000 mAH battery capacity triples the life of your iPhone 4
high-gloss finish and two-toned color combination of black & blue adds a touch of style
Standby time: 675 hours
Talk Time: 25 hours
Auto turn-off when iPhone fully charged to save energy
Apple certified
one-year manufacturer's warranty
To request additional information about MiLi, please contact PR Agent CJ Wang at (631)219-9450 or by e-mail at cj(at)milipower(dot)com.
###