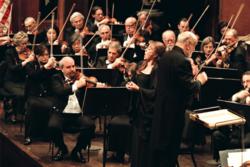 "Now the stirring sounds of a resilient nation one decade later will be heard in every region of the country." Jesse Rosen, President and CEO, League of American Orchestras
New York, NY (PRWEB) September 08, 2011
Millions of Americans attended memorial orchestral concerts in venues ranging from large concert halls to tiny village squares in the unforgettable days and weeks following the horrific events of September 11, 2001. Some were staged specifically for the moment, like the National Day of Prayer and Remembrance at Washington National Cathedral, while others were adaptations of previously scheduled performances. In all cases, orchestras, their musicians and their music became a source of strength and pride, as well as a vehicle for community unification and reflection. What has become a solemn annual ritual continues as orchestras of all sizes provide the musical framework for 9/11 10th anniversary remembrances.
"There will be several original, post-September 11 compositions as well as classics presented by American orchestras, and we are proud of all the performing groups who are participating in local, regional and national observances," says Jesse Rosen, President and CEO of the League of American Orchestras. "Many who were speechless immediately after the attacks found solace, and a collective voice, in the music that filled concert halls, community centers and houses of worship after the tragedy. Now the stirring sounds of a resilient nation one decade later will be heard in every region of the country. We have provided a comprehensive listing for the public at americanorchestras.org."
Rosen, who said that classical, pop, country, hip hop, and other musical forms demonstrated their ability to coexist for the common good following 9/11, explained that new works making their debut include John Corigliano's "One Sweet Morning" and Pierre Jalbert's "Shades of Memory". There will also be several repeat performances of John Adams' "On the Transmigration of Souls", written for the one-year anniversary of the tragedy, and of Mark Scearce's "The Thread", a setting of Toni Morrison's poem, "The Dead of September 11".
Rosen noted that some orchestras are producing events that include spoken verse, including remarks by first responders and community leaders.
Following are some highlights:

New York – The New York Philharmonic performs A Concert for New York for the Tenth Anniversary of 9/11 — In Remembrance and Renewal. Featured works include Mahler's Symphony No. 2, "Resurrection" at a free concert on September 10, to be broadcast nationally on PBS on 9/11. On September 30 the orchestra gives the world premiere of John Corigliano's "One Sweet Morning", commissioned for this anniversary
Houston – The Houston Symphony performs the world premiere of Pierre Jalbert's "Shades of Memory" September 16.
Pensacola, FL; Elgin, IL; Salt Lake City, UT - Pensacola Symphony Orchestra, Elgin Symphony, and Utah Symphony/Utah Opera perform John Adams' "On the Transmigration of Souls", premiered in New York on the one-year anniversary of the tragedy.
Cleveland – The Cleveland Orchestra stages a concert in the Downtown Public Square that will include a large projection screen with images of peace submitted by local citizens for the occasion, a procession of Ohio fire trucks that traveled to New York in the aftermath of 9/11, families of victims and survivors of 9/11, and remarks from civic leaders.
Raleigh, NC - The North Carolina Symphony presents two concerts to celebrate the heroes and honor the fallen, including "The Thread", a setting of Toni Morrison's poem, "The Dead of September 11", by Mark Scearce. Then on 9/11 will offer a free public event with excerpts from previous full concerts anchored by,an interfaith invocation by the president of the Triangle Interfaith Alliance, and prayers for peace from young people representing Christian, Jewish, Muslim, and Native American traditions.
Oakland, CA - Oakland East Bay Symphony - participating in the 9 11 11 Project: A National Requiem of Remembrance, a rolling Mozart Requiem beginning at 3:00 p.m. Eastern time and moving hourly westward across the United States, ending in Hawaii.
###