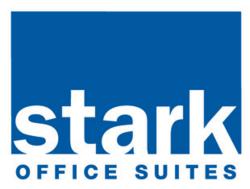 NexFirm fits into the innovative culture and quality service for which Stark Office Suites is known.
New York, NY (PRWEB) September 06, 2011
Stark Office Suites, a provider of premium turn-key office space and high-end amenities for professionals and entrepreneurs, is partnering with NexFirm to offer comprehensive office space and back office solutions for small law firms.
The partnership with NexFirm allows Stark Office Suites to offer its clientele a comprehensive solution to address nearly every business need including accounting, finance, IT, human resources, benefits management, administration, and operations.
"We are always looking for the right opportunities to offer our clients more robust services," said Adam J. Stark, president of Stark Office Suites. "NexFirm fits into the innovative culture and quality service for which Stark Office Suites is known. We believe this partnership will be a great benefit to our clients."
NexFirm's services are a seamless addition to Stark's current offerings and focus on the operations side of business, providing law firms and other professional service firms, including private equity, recruiting, and business consultants, with the infrastructure, support, and back office services they need to create a big presence in a small business environment.
"Providing turn-key options for successful professionals and entrepreneurs is something we have in common with Stark Office Suites," said David DePietto, NexFirm CEO. "We look forward to working closely with the Stark business community to build lasting relationships and provide services that support each client's unique goals."
Stark Office Suites in Manhattan is located in the tower of One Grand Central Place, 60 East 42nd Street. The Stark Office Suites in White Plains is located at 445 Hamilton Avenue. The Stark Office Suites in Mount Kisco is located at 100 South Bedford Road. The Stark Office Suites in Harrison is located at 500 Mamaroneck Avenue. The Stark Office Suites in Scarsdale Village is located at 2 Overhill Road. The Stark Office Suites in Stamford is located at 243 Tresser Boulevard. For additional information, call 914.428.0500, or visit http://www.StarkOfficeSuites.com.
About Stark Office Suites: Stark Office Suites enables entrepreneurs and professionals to establish and maintain a polished professional image without the cost and commitment of a traditional office and staff. Stark offers premium turn-key full-time and virtual office options, multiple conference room venues and state-of-the-art technology including a complete fiber-optic solution. All Stark Office Suites are conveniently located close to major area highways and Metro-North train stations. Stark operates five premium office suites including one location in Manhattan at One Grand Central Place as well as four Westchester locations in White Plains, Mount Kisco, Harrison and Scarsdale Village. Stamford, Connecticut is soon to be the newest addition to the Stark Office Suites brand.
About NexFirm: NexFirm provides outsourced back office services to small law and professional services firms. NexFirm handles HR and benefits, finance and accounting, IT and telecommunications, administration and operations; freeing its clients to focus on growing their practice. Founded in 2008, NexFirm is based in New York City and serves clients across the country. For more information about NexFirm, please visit us on the web at http://www.nexfirm.com
# # #