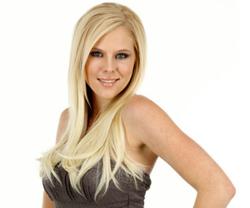 "The new Heat Defiant fiber looks and feels like natural human hair"
Dallas, TX (PRWEB) September 12, 2011
Millions of women all across the country are wearing hair extensions to achieve longer, thicker hair. Many consumers in the market for clip-in hair extensions want the styling versatility and natural look of human hair extensions; but for some, human hair may be out of their price range. That is why Extensions.com is excited to introduce a revolution in alternative hair technology: the HD Heat Defiant Collection by easihair. While the HD Collection is made of synthetic fiber, easihair promises that this innovative new collection "gives every woman the celebrity power to reinvent her style on a moment's notice."
The HD Collection is designed with a heat defiant fiber that allows consumers to blow dry, flat iron and curl these extensions up to 350 degrees with heat tools - just as you would your own hair. What makes the collection so unique, however, is its construction. Easihair created its new extensions line with a smooth, no-rise base made of ultra-thin monofilament ribbons which contain more hair than traditional extension systems. This construction allows the extensions to lay flat and smooth and contour the wearer's head, a feature that easihair says makes the extensions virtually undetectable and blend into the wearer's hair seamlessly. Easihair also boasts that the new HD fiber looks and feels like natural human hair and suggests that with the HD Collection, consumers need fewer extension pieces for the same effect.
Easihair offers several hair extensions systems within the HD Collection. For adding length and overall fullness to one's hairstyle, the new easiXtend system is available in 5 piece and 8 piece systems. Catering to a variety of hair lengths and both straight and wavy textures, EasiXtend is available in 16 and 20 inches. A popular one-piece extension system now available in the HD fiber is the easiVolume, made in 10, 14 and 18 inch lengths. EasiVolume is most often used to add extra body to fine or thin hair.
In addition, the brand introduces a new concept in clip-in hair with easiLayers. These extensions, available in lengths up to 18 inches, are applied around the face and sides of the hair. Easihair maintains that easiLayers aid in adding extra volume and face-framing layers, changing up the wearer's hairstyle. It has even been recommended that consumers pair the easiVolume (worn towards the back of the head), with the easiLayers for an all-over hair transformation.
There is good news for consumers who are new to wearing hair extensions too: the entire Heat Defiant line is designed with easy-to-apply, pressure sensitive clips for simple and quick application that anyone can learn. Like other easihair products, the HD Collection is available in a variety of shades to match or blend beautifully with your own hair color. Consumers can learn more about the new HD hair extensions collection at Extensions.com. Viewers can watch exclusive 'how to apply' video and see the full effects of creating what easihair calls the "romantically long and lusciously thick locks of every bombshell's dreams."
###