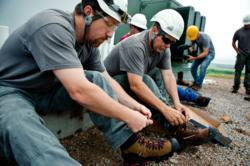 Portland, OR (PRWEB) September 07, 2011
Strategy unites KEEN with companies that embody innovation, optimism on a three-stop road show
Sockeye client KEEN Footwear, Inc., officially launches its new utility boot product line this week. Sockeye's "Project Re-boot" social media and ad campaign is helping the company put boots directly onto the feet of industrial workers – while also showcasing the workers' personal stories and optimism about progress toward a better future.
Sockeye was challenged to help KEEN make a splash in the utility footwear market – one known for brand loyalty and few product introductions – while keeping KEEN's values of innovation and environmental care front and center. The job was also to convey the supreme comfort of KEEN's work boots…but how to show it rather than just talk about it?
The solution: a "road show," visiting three work sites focused on wind energy, vehicle manufacturing and river restoration/dam removal, respectively. KEEN and Sockeye outfit crews with their very own pair of boots, let the cameras roll and watch the magic happen (along with the rest of America, tuning in via KEEN's, and project partners', social media channels).

The tour began in August at the TradeWind Energy wind farm, located near Salina, KS. 12 workers were given KEEN Utility "Portland" boots on-site. Throughout the day, interviews documented their thoughts on wind farming, why they got into the industry…and boots!
This week, KEEN visits the Ford River Rouge Complex, Dearborn, MI. Ford's largest factory, the facility has the biggest extensive living roof in North America and sets the standard for efficiency and environmentally aware manufacturing. More than 100 workers tried out KEEN's Utility line.
The final Re-boot takes place on an historic occasion: Phase Two of the largest dam removal project in U.S. history. The Elwha River Restoration will bring the river to its free-flowing state, restore legendary fish runs and return sacred sites of the Lower Elwha Klallam Tribe. Sockeye will capture the action during a Re-boot of the Barnard Construction Company's demolition crew.
Video and photos from each Re-boot will be shared through KEEN's Facebook, Twitter and YouTube channels. Photography from the field visits, including a crew "Unity" shot at each location, will be used for trade print, online banners, and billboards and transit media in select locations.
About Sockeye
Sockeye is a brand creative agency based in Portland, OR. We focus on developing clear, honest brand identities, creating engaging ways to tell our clients' brand story, and creating value within our clients' brands in the minds of their clients and partners. Our services include brand strategy, identity, naming, design, advertising, interactive, creative film/video, and results.
###