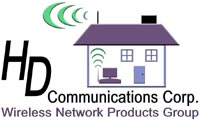 other manufacturers are still claiming that their single access point will cover thousands of square feet. They just don't get it.
Ronkonkoma, NY (PRWEB) September 07, 2011
HD Communications Corp., a company with expertise in wireless communications dating back to 1976, has released its fourth generation In Wall Wi-Fi Access Point.
"We have continued to listen to our customers and have added the features that they have requested," said Don Davis President CEO of HD Communications Corp.
The HD28650 is an In-Wall / 802.11b/g/n Wireless Access Point that is Power over Ethernet enabled, has dual jacks for both data and phone on the front panel, and is designed to fit into a standard single gang box.
"Other manufacturers are still claiming that their single access point will cover thousands of square feet. They just don't get it," said Don Davis.
The problem with Wi-Fi range comes from the client devices such as handheld Wi-Fi enabled devices. Those devices have low power transmitters so you need to get the access point closer to the user. We can do that because of our unique in wall packaging," stated Davis.
Davis asserts that there are two elements to good Wi-Fi range. The transmit side of the router or access point and the transmit side of the client device and both must be considered. He goes on to say, "In simple terms your Wi-Fi enabled phone might now have four bars since you installed that new high power wireless router or access point but unless your phone has the ability to transmit your request the full distance to where your high powered access point or router is, you will still have a poor Wi-Fi connection"
The HD28650 has now been installed in many locations including Hotels, Motels, educational facilities, and many residential homes.
HD Communications Corp will also release a software controller based version the first quarter of next year and version four will be upgradeable to the controller based version when available. The HD28650 version 4 will be introduced at the CEDIA 2011 show in Indianapolis, IN September 8th through September 10th at the HD Communications booth #2646. It is currently available direct from the company but the company expects to sign on with a national distribution firm to stock and sell the product shortly.
About HD Communications Corp.
HD Communications Corp. has been providing Wireless Network Products, Components and Systems to the wireless network (Wi-Fi), RF and microwave industries since 1991. The customer base of HD Communications Corp. includes major electronic companies, OEMs, wireless Internet service providers (WISP) and re-sellers in over 50 states and 57 countries. HD Communications Corp serves the educational, military, healthcare, consumer, re-seller and Original Equipment Manufacturer markets with its broad reach of products and services.
Individuals interested in HD Communications Corp. can find further information by visiting the company's website, http://www.wirelessnetworkproducts.com
Contact:
Don Davis
dond(at)hdcom(dot)com
888-588-3800 ext 180
###