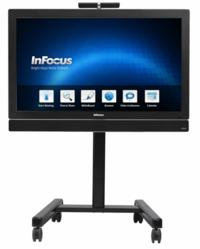 "We immediately identified the Mondopad as a key addition to our product offering because we know it will assist in acquiring new customers and revenue streams." -- Chris Wiser, Founder and CEO, TechSquad
Waukesha, Wis. (PRWEB) September 07, 2011
TechSquad, a provider of managed and hosted services, today became the first Wisconsin-based Managed Service Provider (MSP) to offer and support InFocus Mondopad™.
Unveiled in June 2011, Mondopad is a 55-inch HD display combining intuitive touch collaboration applications with any-to-any video conferencing that offer SMBs a disruptively priced, all-in-one collaboration solution. Mondopad was designed to provide easy sharing of documents and visuals in meetings, enabling users whether local or remote to share, view and control presentations from their PC, tablet or smartphone.
According to a recent Infonetics study, enterprises will spend $5 billion on video conferencing and telepresence solutions in 2015; growing worldwide from $2.2 billion in 2010.
"Businesses worldwide are continually seeking new ways of communicating more efficiently and cost-effectively, and Mondopad eliminates technical complexities and cost barriers for even small companies," said Chris Wiser, founder and CEO, "We immediately identified the Mondopad as a key addition to our product offering because we know it will assist in acquiring new customers and revenue streams."
TechSquad chose to offer Mondopad to its end users because of its collaboration capabilities and its ease of management. TechSquad can securely monitor, manage and administer the Mondopad from anywhere utilizing embedded Intel vPro technologies and compatibility with industry-leading remote monitoring and management software. This feature also allows TechSquad to add their own Windows applications to the Mondopad, if they so desire.
"TechSquad is a great partner in building sales momentum for the Mondopad's exclusive combination of hardware, software and video conferencing," said Jim Reddy, InFocus Vice President of Sales - Americas. "Any MSP adding the Mondopad to their product offering can increase their sales, as well as enhance their reputation as a leader in business technology."
From now until September 30, 2011, TechSquad has secured special launch discount pricing on Mondopad for its current clients. For those who take advantage of this offer and view TechSquad's in-office demonstration of Mondopad, they will receive:

50 percent off the regular installation fee.
Free training on the Mondopad for all staff members.
Three months of management at no charge.
For additional information on how the InFocus Mondopad benefits today's MSPs and VARs, go to: http://www.mspmentor.net/2011/08/22/infocus-mondopad-collaboration-video-conferencing-for-msps/ to view an exclusive MSPMentor Fast Chat video with TechSquad's Chris Wiser.
To learn more on how to take advantage of Mondopad through TechSquad, call (262) 798-0909. You can also visit the company's Web site at: http://www.TechSquadIt.com.
For more information on InFocus or Mondopad, visit the company's Web site at: http://www.infocus.com/mondopad.
About TechSquad
Based in Waukesha Wis., TechSquad (http://www.techsquadit.com) was founded in 2008 with a mission to help small businesses in Milwaukee, Waukesha and Brookfield get the most out of their business technology. Since its founding, TechSquad has helped many small businesses relieve their technology worries so that they can concentrate on growing their businesses and realizing their goals. TechSquad's services are focused on providing the business tools that small businesses need to compete, providing affordable technology designs based on business requirements.
About InFocus Corp.
InFocus is a digital display technology leader and visual collaboration champion. InFocus digital displays empower and inspire people located anywhere (in the room, down the hall, across the campus or around the world) to turn their bright ideas into brilliant results. Backed by more than 20 years of experience and innovation in digital displays, InFocus is dedicated to setting the industry standard for large format visual displays. The company is based in Portland, Ore. For more information, visit the company's website at http://www.infocus.com, on Facebook at http://www.facebook.com/InFocusCorp, or follow InFocus on Twitter at @InFocusCorp and @InFocusEDU.
###