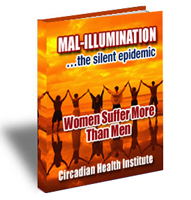 "We estimate that vitamin D deficiency is the most common medical condition in the world."
Phoenix, AZ (PRWEB) September 08, 2011
Vitamin D continues to be all over the news. Fortunately, all the news and health interest in vitamin D is now increasing awareness of Malillumination, a root cause of vitamin D deficiency according to the Circadian Health Institute (CHI). CHI is a research organization focusing new light on this little known modern day disease.
Humans are photobiotic — all humans are absolutely dependent on the absorption of the sun's vital energy. Now more than ever in this Age of Information, millions of people have unwittingly become "contemporary cave-dwellers" living and working indoors. "We are human photocells whose ultimate biological nutrient is sunlight," states CHI Research Director, Ken Ceder. "In fact, the full spectrum of sunlight energy is essential for the development, growth, and maintenance of not only a healthy body, but critical for a healthy mind as well."
The late Dr. John Ott, renowned photo biologist and father of full-spectrum light technology, coined the term "malillumination" to describe the current 'sunlight deprivation & vitamin D starvation' epidemic. Like malnutrition, malillumination causes deficiencies by depriving us of vital energetic nutrients (e.g. UV light/vitamin D). When we suffer from malillumination we also lack the rhythmic stimulation that is essential for humans to live in unison with nature's rhythms. When we are out of synchronization with the rhythms of nature we experience dis-ease in all of its manifest forms.
Vitamin D is naturally produced in humans when the sun's ultra violet wavelengths (UV light) radiate the skin; however the sun has a 'full spectrum' of energetic wavelengths that do more than just make vitamin D. Vitamin D is complemented and synergized by the natural rhythm of radiant light. Gentle, morning light is especially important for regulating one's 'light sensitive' hormones and neurotransmitters, such as; melatonin, serotonin, insulin, cortisol and dopamine. The newness of morning light also synchronizes everyone's (daily) circadian rhythms that control appetite, energy, mood, sleep, libido and other body mind functions.
Everyone knows the sun rises and sets every day — this miraculous life regulating cycle sets the primal rhythm of life. Unknowingly millions of people have vitamin D deficiency and are out of rhythm with nature and suffer from chronic malillumination.
The Circadian Health Institute serves as a catalyst for raising awareness of malillumination and is pleased to share clinical research and offer a complimentary e-Book; Mal-illumination… the silent epidemic.
Contact: Ken Ceder at 928-252-2013 or ken(at)bioLightGroup(dot)com For more information, please visit http://www.bioEnlightenment.info
###