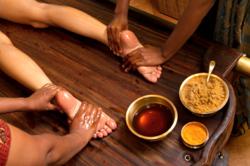 When our clay compound gets in your blood, lymph and intestinal tract, it simply emulates this function, allowing cells to get rid of the bad compounds
Madison, WI (PRWEB) September 08, 2011
The universal trend toward natural home remedies and other organic forms of treatment continues unabated as San Francisco-based company, Zion Health launches Adama Minerals, its new line of Magnetic Clay body care products now available at Champion Vitamins located at 1604 Washington Street in Manitowoc, Wisconsin.
Zion Health's new line of magnetic clay, whole body detox products and mineral skin care remedies are well known for healing a variety of skin ailments and digestive problems. The full line of products contain a unique type of clay called Calcium Montmorillonite or Adama. Scientific research supported by MIT and NASA have concluded that minerals in montmorillonite clay have a natural magnetic pulling charge that enhances cellular activity as well as absorb toxins from certain chemicals and harmful bacteria.
Throughout history, mankind has used clay to heal a variety of health ailments including stomach pain, digestive problems, skin infections, and anemia. NASA scientists gave astronauts Calcium Montmorillonite supplements to help prevent bone loss when in outer space. Native Indian Medicine men used specific types of clay to heal wounds and alleviate stomach pain. Galen, famous roman physician and philosopher, prescribed clay as a cure for acne and skin infections. Montmorillonite clay is commonly sold in bulk in health food stores in France and across Europe.
Neva Jensen, famous nutritionist and author of Living Clay, states about Calcium Montmorillonite, "When our clay compound gets in your blood, lymph and intestinal tract, it simply emulates this function, allowing cells to get rid of the bad compounds so they can spend more time keeping you alive. No other mineral substance or drug can claim this dual function and no other natural compound is so good at this method of detoxification." Zion Health sells a full line of Healing Minerals Detox Teas called Kanwa with the main ingredient of Montmorillonite clay.
Zion Health's clay detox products also include organic clay soaps, shampoos, conditioners, natural deodorants, acne preventative creams, clay masks, bath minerals, clay moisturizers, and wrinkle preventative creams. Zion products are now available at Champion Vitamins in Manitowoc Wisconsin and may also be purchased in California Whole Foods Market locations in Redwood City, San Ramon, San Mateo, Cupertino, Roseville, Mill Valley, Monterey and local health food stores within the U.S., Canada and Puerto Rico. In addition, Adama Mineral skin care products are available online at http://www.kanwaminerals.com.
###