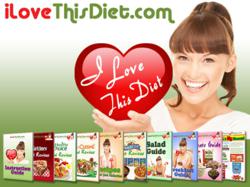 I Love This Diet features more than twice as many entrees as the more expensive frozen meal plans, at half the cost.
Newport Beach, CA (PRWEB) September 08, 2011
I Love This Diet announces the launch of its new diet plan which provides budget-minded and time-strapped dieters with a nutritionally balanced way to lose weight using the most popular low calorie frozen meals available in supermarkets. "Jenny Craig is a great plan, but it can easily cost $500 - $600 per month in food and shipping costs," said I Love This Diet spokesperson Candace Abbott. "I Love This Diet users enjoy a delicious frozen meal diet plan for a fraction of the cost."
Dietitian Approved
I Love This Diet is a dietitian-approved program that shows dieters a nutritionally correct way to lose weight by eating low cost frozen entrees from Lean Cuisine, Healthy Choice, and Weight Watchers Smart Ones, as well as Progresso Soups. Ms. Abbott stresses that I Love This Diet is a completely independent company, and has no relationship with any of the manufacturers of the frozen entrees and soups used in the diet plan. "We choose to use Lean Cuisine, Healthy Choice and Smart Ones frozen meals in our diet program due to their positive nutritional characteristics, as well as their low cost and wide availability."
To help its dieters save the most money possible, I Love This Diet provides its users with weekly coupons and savings information for all of the frozen meals it uses, as well as for soups and low calorie snacks. "We save our dieters hundreds of dollars each month over the cost of any of the major meal delivery diet plans they see advertised on TV," said Abbott.
How It Works – The Format
After purchasing the plan at ILoveThisDiet.com, dieters receive immediate access to all I Love This Diet materials. I Love This Diet is a convenient, easy-to-read series of illustrated guides in PDF format, which can be read on any computer, either PC or Mac.
Dieters begin with a brief Instruction Guide that takes only ten minutes to read, and serves as the launch point to all ten related guides, from the Breakfast Guide to the Frozen Meal Review Guides, all at the click of a mouse.
How It Works – Calorie Levels
Dieters are assigned one of four calorie levels of between 1300 and 1600 calories per day, based on their current weight. As they lose weight, their calorie level changes accordingly. Dieters are offered a great variety of foods, as well as an assortment of tasty, low calorie, filling snacks from the I Love This Diet Treats Guide.
Variety
I Love This Diet gives weight loss seekers over 250 frozen meal options--three times that of the more expensive celebrity endorsed meal plans. If a dieter is in the mood to cook instead, she may choose any of the many tasty selections in the I Love This Diet Recipe Guide. Or she may elect to substitute a salad (or soup and salad) from the Salad Guide.
Convenience
Using the celebrity endorsed diets, dieters often must buy weeks of food at a time, and then find a way to cram it all into their freezer. With I Love This Diet, dieters buy just what they want, when they want it, from their local supermarkets.
Mobile Device Access
I Love This Diet may be accessed and read on iPhones and iPads using the GoodReader app (not included) .
The World's Easiest Diet
I Love This Diet makes dieting as simple as possible-- no meetings, no long term commitments, no expensive deliveries--and allows dieters to stay motivated thanks to meal variety, convenience and low monthly food costs. For more information, go to http://www.ilovethisdiet.com.
###