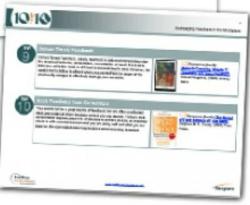 Seattle (PRWEB) September 08, 2011
A new complimentary tip sheet from RealTime Performance gives leaders quick and specific insights on managing change. This content provides readers with a snapshot of the resources available in Inspire, an online leadership development tool from RealTime Performance.
"Managing Change," the ninth monthly installment in the Inspire 10X10 tip sheet series, is available for download at http://www.realtimeperformance.com/about/downloads_10x10_change.html.
Each tip sheet provides 10 short, actionable suggestions for on-the-job leadership development activities, along with recommended learning resources for further study of each monthly topic. This month's Inspire 10X10 offers leaders tips for managing change, including how to reduce anxiety while increasing urgency, draft and communicate a compelling vision, and make sure that change has the desired long-term impact.
RealTime Performance, a provider of Web-based leadership assessment and development tools, created Inspire to equip employees to take ownership of their leadership development by enabling them to build, drive and track their own leadership development plans. Inspire includes links to books, articles, well-known blogs and videos that reinforce each leadership topic.
"Change is threatening to many people, and leaders can meet with fear and resistance," said RealTime Performance's chief executive officer, Sean Murray. "We gathered these resources and quick strategies to engender confidence in leaders as they instigate or navigate the inevitable changes that come to every organization."
To access the current Inspire 10X10, "Managing Change," visit http://www.realtimeperformance.com/about/downloads_10x10_change.html. Next month, RealTime will cover tips and resources regarding innovation.
About RealTime Performance
Founded in 1999, RealTime Performance delivers online training products to develop company leaders. The products enable companies to cost-effectively assess leadership skills, make targeted recommendations for performance improvement and empower employees to create and share development plans to achieve business goals. The company's flagship Web-based training product, Inspire, provides a self-directed means for employees to manage their career development, giving them access to knowledge and skills at the "point of need." For more information, visit http://www.realtimeperformance.com.
Contact:
Sean Murray
206.749.9000 x21
seanm(at)realtimeperformance(dot)com
Heath Davis Havlick
HRmarketer.com
831-685-9700
hhavlick(at)hrmarketer(dot)com
This press release was distributed through PR Web by Human Resources Marketer (HR Marketer: http://www.HRmarketer.com) on behalf of the company listed above.
###