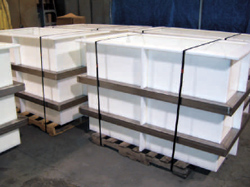 South Bend, Indiana (PRWEB) September 08, 2011
With an increased demand for reliable corrosion and abrasion resistant tank lining solutions, Abtrex Industries Inc. recently expanded its product offerings to include polypropylene tanks.
Charles Groom, an Abtrex Industries Sales Engineer, detailed the recent moves. "With a dedicated plastic fabrication facility already in place, Abtrex now utilizes state-of-the-art Wegener Welding sheet bending and sheet butt welding equipment for fabricating tanks made of polypropylene, copolymer polypropylene, high density polyethylene and PVC/CPVC."
Since tank linings serve an ever-crucial role in a variety of manufacturing sectors, Abtrex has furthered its capabilities by fabricating polypropylene tanks with formed, seamless corners. Specialized tanks are made possible by the butt welder, which can fuse sheets of plastic together. This technology allows Abtrex to offer cost-effective and durable polypropylene solutions. Applications include water & wastewater treatment tanks, dip tanks, rinse tanks, anodizing tanks, drip pans, air purification tanks, tank liners and plating equipment.
In keeping with the demands of the manufacturing industry, Abtrex lined tanks and tank designs will not be limited by stock sheet sizes. Groom noted that "sheet thicknesses ranging from 1/8" to 2" can be welded with Abtrex equipment." He further emphasized that "polypropylene tanks can be built to customer specifications, and Abtrex offers design and build services using AutoCAD and Solidworks 3D modeling software."
Abtrex continues to offer rubber lining services in addition to its expanded product offerings. Specializing in rubber lined tanks, Abtrex is an approved applicator for Blair Rubber Co. (Goodyear) and Polycorp (B.F. Goodrich). Abtrex also manufactures their own line of rubber, which adheres to the same quality standards as the name brands and can lower the overall cost of client projects and decrease material lead times. Past clients have used Abtrex for lined pipe services as well.
With over 40 years of experience, the Abtrex South Bend plant currently fabricates plating, pickling, acid, rinse and other process tanks for a variety of industries. The recent addition of polypropylene tanks to the Abtrex product line is clear example of strategic planning to help meet industry demands.
Manufacturers interested in learning more about Abtrex Industries Polypropylene Tanks can visit http://www.Abtrex.com or contact Charles Groom at 800.959.0125.
###