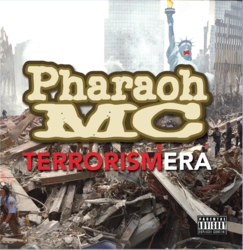 The album begins with the rapper impersonating a terrorist...
Los Angeles, CA (PRWEB) September 07, 2011
Pharaoh MC, Egyptian-American rap artist and music producer, is releasing his controversial debut album entitled 'Terrorism Era' on September 11th 2011 at 9:11am.
Pharaoh MC states, "Terrorism Era was inspired by a multitude of events and revelations. The most compelling evidence that inspired the album came from the scientists and engineers who concluded that at least 6 laws of nature would have to have been violated in order for Americans to believe the government's story." He also drew inspiration from a variety of other injustices; "the lies and deceit from the Bush administration, the media's reports of false information, fraud in the banking system, the current climate of fear, and the false imprisonment of Muslims in Guantanamo Bay. "
The album begins with the rapper impersonating a terrorist about to commit the heinous crime on 9/11/01 under the pretense that the story, as it is told by the US government, is true. The album then takes a turn as the artist makes a mockery of said story and takes us on a journey of truth; presenting facts and information that might make even the most skeptical minds ask questions about our Global climate and the current state of affairs in the United States.
The album 'Terrorism Era' will be available at all major online retailers after September 11th 2011. Visit http://www.pharaohmc.com for more information.
Pharaoh MC is rap artist/hip hop music producer from Los Angeles, CA. He's known for his unique style that blends flavors from his Arabic roots and hip-hop's golden era.
###