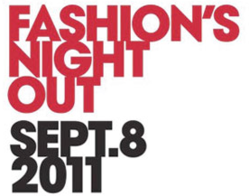 Bal Harbour, FL (PRWEB) September 07, 2011
On September 8th, 2011 the world of high fashion goes social as Bal Harbour Shops celebrates Fashion's Night Out with social network heavyweights Foursquare and Klout.
Bal Harbour Shops is chartering new territory in the ever-changing world of social media, as evidenced by the recent announcement of their exclusive collaboration with Klout (http://www.klout.com) for this year's Fashion's Night Out. "Klout" is a premiere social media measurement tool and considered one of the most accurate gauges of social influence in the digital world. The Klout Lounge will require attendees to possess a Klout score of 40 or above to be granted entry for the event. The guest with the highest Klout score will be awarded a $500 Bal Harbour Shops gift certificate. "A Klout score of at least 40 ensures that only the most socially engaged will be in attendance and as a direct result will tweet, check-in on Foursquare and post photos on Facebook to their friends and followers, creating a real-time digital echo for FNO at Bal Harbour Shops" explains The bpr Group Agency Director Christopher Renz.
The preparation for Bal Harbour Fashion's Night Out social media integration began several months ago with the design of the new "must have Bal Harbour accessory," the Bal Harbour Shops smartphone application (http://www.balharbourshops.com/app). The application is easily downloadable through a link, rather than requiring access via an app store and will provide patrons with a complete shopping experience at their fingertips. The app will serve as a digital shopping guide to discover all that Bal Harbour has to offer on The night of Fashion's Night out and well beyond.
Prior to Fashion's Night Out, on September 1st, Bal Harbour Shops recognized the shopping center's over 100 "mayors" on Foursquare (http://www.foursquare.com) with a private cocktail event aptly named "The Mayor's Lounge" that was held at Savarin. The event celebrated and rewarded Bal Harbour Shops most loyal digital customers with exclusive FNO previews available only to the store "mayors". Foursquare is a social marketing platform based on user location.
Sixty of Bal Harbour Shops will host events with proceeds supporting 30 South Florida charities including; the Make-A-Wish Foundation of Southern Florida (http://www.sfla.wish.org), the Bass Museum (http://www.bassmuseum.org) and the Children's First Fund at the University of Miami (http://www.pediatrics.med.miami.edu). Many of the participating shops have generously elected to provide additional donations, offering a portion of sales to selected charities in the days preceding and following Fashion's Night Out.
One of Miami's most well known couples; Tracy and Alonzo Mourning have partnered with 100% Capri to donate proceeds from September 7-9 to benefit the Honey Shine Mentoring Program (http://www.honeyshine.org). "Alonzo and I believe Fashion's Night Out supports our community while offering unique and one-of-a-kind events and I applaud them for their efforts and am happy to be a part of it" said Tracy Wilson Mourning.
BAL HARBOUR SHOPS
In 1965, owner/developer Stanley Whitman opened the first, exclusive high-fashion shopping center in South Florida. Bal Harbour Shops was designed to celebrate the balmy beauty of South Florida. Ideally situated between the Atlantic Ocean and Biscayne Bay in the affluent village of Bal Harbour, the lushly landscaped, open-air mall doesn't look or feel like any other center in America. By today's mega mall size, Bal Harbour Shops 500,000 square foot al fresco shopping experience seems refreshingly intimate, though its economic impact rivals the super regionals. Bal Harbour was ranked the number one most productive shopping center in the U.S., based on average sales per square foot, according to Women's Wear Daily. 2010 was Bal Harbour Shop's best year in its 45-year history with annual sales of $1,975 per square foot, the highest revenues in the industry. For 2011, Bal Harbour remains the top performer with sales trending at $2,306.
###