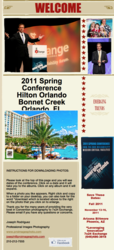 It is crucial that groups take advantage of new Convention Photography products in the field to increase ROI.
San Antonio, TX (PRWEB) September 07, 2011
Professional Images again has created excitement in Nashville, TN with new product creating private websites for convention, conference, and association meetings. Event photography service took place at The Wildhorse Saloon in downtown Nashville, which often is a place for large convention and association groups to have a night of fun and networking and recently Joseph Rodriguez, owner of Professional Images Photography was there with his staff to capture the moment.
Convention Photography is a specialized style that comes with years of experience in the field and in many different venues, convention centers, hotels and resorts. The idea of having a private website happened when a client wanted not just a site to order photos but a site to have for attendees and guests to upload, share and browse without any restrictions.
Professional Images Photography listened and worked out a solution that provided created a website that includes an opening page with sponsors logos, group name and date of event and location, a few photos from the meeting and also information for the following year. The following pages included general sessions, breaks, breakout classes, and opening reception, speakers for each day with all detailed in a simple yet well-organized layout by date.
With the ability for everyone to have access to images from the meetings, this helped drive traffic back to the convention group's website which in turn created more opportunities for renewing membership, browsing site gaining new memberships and branding which more importantly is the foundation to any successful marketing plan.
It is imperative that groups take advantage of new products in the convention photography field to increase ROI on all levels, and Professional Images Photography continues to provide.
About Us: Professional Images Photography based in San Antonio, TX traveling nationwide providing convention and event photography services since 1987.
###