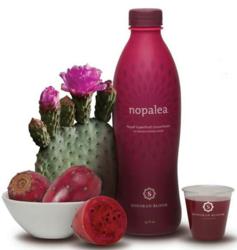 Scottsdale, Arizona (PRWEB) September 08, 2011
Consumers seeking detoxification without the risks involved in questionable practices such as sweat spas, colonics and extreme diets, can now turn to Nopalea™, the anti-inflammatory wellness drink from TriVita® that helps the body detoxify itself naturally.
Nopalea contains rare and powerful antioxidants found in the fruit of the Nopal cactus (Opuntia Ficus Indica), harvested from the Sonoran Desert of North America. These antioxidants, called Betalains, have been proven in studies to help detoxify the body itself as well as reduce chronic inflammation. Betalains work by: strengthening cell walls that are distressed by external toxins and internal deficiencies; supporting the natural detoxification processes of the human body, most of which occur in the kidneys and liver; and clearing away toxic buildup of waste within the body.
When toxins surround cells, nutrients are unable to reach the cell; this can result in cells withering, collapsing and eventually dying. It can also lead to joint pain, which is linked to a variety of serious health conditions. Nopalea helps neutralize accumulated toxins in the body, so that vital nutrients may reach cells and equip them to repair and replace damaged tissue and reduce the reactive inflammation that toxins promote.
Many toxins can enter the body through air, water, food and even mere physical contact. Adverse health issues are increasingly being linked to exposure to chemicals found in everyday household items. Chemicals lurking in plastics, furniture, clothing, appliances, household cleaners and more can all increase a body's toxic load. Other common sources of toxins include pesticides, herbicides, environmental pollutants and even biological processes such as metabolism.
Fear of these known toxins and other unknown toxins sometimes drives consumers to try unproven and potentially harmful detoxification methods such as so-called detox diets, colon cleanses and more. Now, with Nopalea, consumers can help their bodies detoxify naturally with a delicious wellness drink.
TriVita is a Scottsdale-based wellness company that encourages people everywhere to experience wellness®: physically, emotionally and spiritually. Learn more about Nopalea at nopalea.com.
These statements have not been evaluated by the Food and Drug Administration. This product is not intended to diagnose, treat, cure or prevent any disease. Children, women who are pregnant or nursing, and all individuals allergic to any foods or ingredients should consult their healthcare provider before using this product. You should not stop taking any medication without first consulting with a healthcare provider. If you experience unexplained swelling, consult with your healthcare provider for a diagnosis of the problem.
###