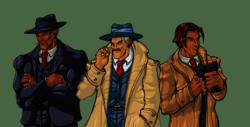 Omerta began life in a bedroom in Holland – 4 million online gangster later we're still a community-lead, volunteer run game. We're Mafiosi, but we think 'good society is run by volunteers' – and that's why we're putting the demos back into online gaming.
Hull, UK (PRWEB) September 08, 2011
Omerta Game Ltd are celebrating a successful re-launch of its very popular online Mafia-themed game, Omerta, by giving away an Apple iPad II for one lucky player of the all-new version 3.3.
Omerta, has been around since 2003 and can rightfully claim to be the 'Godfather of all Mafia games' – and the longest-established and biggest free-to-play, massively multi-player gangster game on the web, having already achieved a number of impressive milestones including over 4 million individual registrations.
"We're taking Omerta 'back to the people' with a raft of settings which players will be able to influence to stir up game-play as they see fit. Since the 4-million player milestone, we have been actively engaging with players to see how Omerta can stay top of the league of Mafia-themed games. They told us 'do as we say' – so that's what we're doing!" commented Omerta Game Ltd C.E.O. Steve Biddick.
"We have a great tradition at Omerta of involving the player's wishes and our game is highly community-lead with regular interaction via in-game forums and a variety of layers of community strata which empower decision making about how the game works. Players told us that they want to make changes to how things work while the game is actually running – but they don't often form a singular body of opinion – so we said "Right we will give you the controls for your own purpose." They seem to love the idea so far!" contributed Bianca Evers, Community Manager for Omerta Game Ltd.
"Players told us that offline accounts were too strong and that some of the armoury available made a sleeping player into an unassailable 'tank' – so we have balanced the game with these wishes. They told us that families were dividing into countless and pointless little families so we built a new feature to let the community decide how many Mafia families Omerta's 8 cities can support. Later in the version we hope to pilot a City Mayor feature which will allow players direct control over a myriad of detailed functions within the game. We are the only game on the web not 'leading the players by the nose'" adds Biddick.
To celebrate the success of the recent re-launch, Omerta will be giving away a treasure-chest of in-game and 'real life' prizes, including unique unlock codes for in-game features, T-shirts and a brand new iPad II via the popular social networking sites, Twitter and Facebook.
"We've had a lot of success previously using Twitter and during v3.2 of Omerta we grew our Facebook community to over 11.5 k followers by engaging in discussion and debate with the players. Every announcement we make is generating over 50k Facebook impressions within 48 hours of publication and we are one of the fastest-growing communities on Facebook. We've extended that with a bespoke application which links an Omerta account with a Facebook account. Offering all of these prizes, especially the iPad II will help to spread the word about Omerta "said Paul Fargus, CTO of Omerta Game Ltd.
In-game prizes include special vouchers which will permit a player to set up a family spot when none are available, HUGE in-game cash prizes, bullets, bodyguards and 100s of prizes of the most exclusive cars a hoodlum could hope to steal.
The contests will begin on September 12th [subject to change] and will play out over a period of 5 days. For the in-game prizes, Omerta will randomly select one game version and run a live, 5-minute contest with instant prizes. Players will have 5 minutes to tweet about Omerta using a #tag in Twitter, or make a wall post about Omerta in Facebook. All tweets and wall posts which fall within the 5 minute window will be entered into a random draw.
Entrants will need to be registered on Facebook, Twitter or both and follow the Omerta tweets. This can be achieved by following Omerta – http://www.twitter.com/Omerta3 or by 'Liking' the Omerta Facebook page http://www.facebook.com/Omerta3
Players can register at the new versions of Omerta here -
Omerta Portuguese/Brazilian v3.3
NB The international, Dutch and various other versions of Omerta are still running and all can be found at http://www.barafranca.com
Omerta is free to play. The only requirements are a modest PC with an internet connection.
About Omerta -
Omerta began in 2003 as an amateur project, in a bedroom in Groningen, the Netherlands.
Omerta Game Ltd was founded in 2004 to manage and further develop Omerta. It now boasts a full-time staff of 18 people in four countries and a network of over 200 volunteers, spread out across the whole globe.
Omerta is available in 29 languages, all of which are updated for the forthcoming launch of Omerta 3. Regional (single-language) versions are available in Chinese, Dutch, French, German, Portuguese/Brazilian, Turkish and the 'Nordic' languages (Swedish, Norwegian, Danish and Finnish).
Apart from the International version, the Dutch, Turkish and Portuguese versions are the biggest versions.
Already more than 4.1 MILLION people have played Omerta!
Omerta players like to spend time chatting with their friends on Omerta's own IRC server. There are typically over 4000 people or more logged into this.
Omerta boasts typically more than 80,000 players logging in each day to chat, race cars and kill each other, all in the name of good clean fun!
Totals (Since July 8th launch) =
Users Registered: 73313
Users Online: (now!) 2733
Logged in last week: 24971
Registered last week: 4590
Registered today: 1260
Logged in today: 14429
Users dead: 4105
###