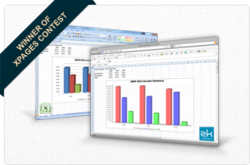 ZK Spreadsheeet and XPages' integration offers users more convenience, versatility and more over, enhanced applications
London (PRWEB) September 07, 2011
ZK is pleased to announce that one of its developers Dennis Chen has been awarded as one of the three winners of the first ever "XPages Development Contest" for his effort in seamlessly integrating ZK Spreadsheet into IBM Lotus Domino XPages. This contest was sponsored by IBM Business Partner We4IT and hosted at OpenNTF.org.
Participants were required to contribute re-usable XPages controls along with a well documented reference understandable and consumable by other developers, in particular, specifying design elements in which developers are to copy in order to utilize the controls in other applications. Reusable controls are often custom controls with parameters to configure them enabling them to be used in different contexts.
The contest attracted a total of 49 contestants contributing 54 custom controls and 10 library controls. Nominations were judged by several criteria including reusability, consumability, "wow factor, completeness of solution and documentation, overall business value and originality.
Despite the competitiveness, ZK Spreadsheet and XPages' integration was proudly selected proving its value once again to the Java Community. In this ZK XPages project, ZK Spreadsheet and ZK Pivottable were integrated into XPages, providing extension libraries that can bridge XPages to ZK whilst essentially and effectively integrating the core of ZK into XPages' environment, providing developers an architecture with great extensibility easily integratable with any ZK components. "This in turn is the greatest value coming out of this project; by integrating ZK Spreadsheet into XPages, users are now provided with more convenience, versatility, efficiency and more over, enhanced applications." says Dennis Chen in an interview.
ZK Spreadsheet is an open source, embeddable web-based spreadsheet that delivers rich functionality of Excel within browsers using pure Java without the need to install Excel or applets on the server or client. With the ability to include Excel functionality in any web page, developers are able to create interactive, collaborative and dynamic enterprise applications at minimal cost. ZK Spreadsheet has become a mainstay in developer's toolkits since its first release in February 2008 obtaining favourable reviews across the globe and deployed by various corporate financial institutions.
XPages is a rapid web and mobile application development platform based on JavaScript, JSF and a document orientated database. It allows IBM Lotus Notes data to be displayed to browser clients on all platforms and its applications are hosted by IBM Lotus Domino.
About Potix
Potix Corporation develops and supports ZK, the #1 Java based Ajax solution on SourceForge.net, the world's largest open source host. Innovation is the most driving force behind the growing Potix. Potix delivered the first Ajax framework to support Java and Android phones, the first embeddable Ajax spreadsheet, and the first to synergize the power of pure Java, markup and scripting languages.
ZK has more than 1,500,000 downloads since its first release in late 2005. ZK is deployed by a large number of Fortune Global 500 companies, including Barclays, Societe Generale, Swiss RE, eBay, Roche, Deutsche Bank, Sony, Sun Microsystems, Audi, EMC and Toyota, providing them with the ability to rapidly create rich Ajax enterprise level applications.
About IBM
International Business Machines (IBM) is a multinational technology and consulting firm headquartered in New York. IBM manufactures and sells computer hardware and software, offers infrastructure, hosting and consulting services in areas ranging from mainframe computers to nanotechnology.
In 2011, Fortune ranked IBM the 18th largest firm in the U.S. as well as the 7th most profitable globally, the company is ranked the 31st largest firm by Forbes for 2011. IBM employs more than 425,000 employees in over 200 countries, including scientists, engineers, consultants, and sales professionals.
###