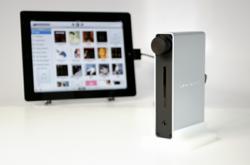 Apple products are becoming the hub of a person's entire music and audio collection, so improving the audio quality produced by these devices is key. Icon iDo delivers on that promise.
Milpitas, CA (PRWEB) September 08, 2011
NuForce, Inc., a leader in professional and consumer audio solutions, announces today its Icon iDo digital audio converter (DAC) and headphone amplifier for iPad, iPhone and iPod Touch devices. The Icon iDo delivers audiophile-grade CD quality sound to digital music files stored on Apple® mobile digital devices. iDo is ideal for music enthusiasts and musicians alike who primarily listen to—and have their digital music libraries stored on—these devices.
"We're thrilled to bring our knowledge and understanding of the high-end audio market direct to Apple enthusiasts," said Jason Lim the CEO of NuForce. "Apple products are becoming the hub of a person's entire music and audio collection, so improving the audio quality produced by these devices is key. The Icon iDo delivers on that at very affordable price point."
A fast and easy connection.
Using the Icon iDo is simple. Users can connect any Apple mobile device to the Icon iDo with the Apple® approved and included 30-pin sync/charging cable, attach the power supply, and then plug the Icon iDo into a home stereo system using RCA cables or a single coaxial. Users can also plug in headphones directly into the Icon iDo for personal high quality sound playback in a manner the artist intended it to be heard.
How iDo makes music stored on Apple devices sound even better?
Apple uses its own audio codec, Apple Lossless Encoder (ALE), to compress and store music files on its devices in original CD quality without loss. However, even ALE files only sound as good as the default DAC (digital-to-analog converter) found within the mobile digital device. Icon iDo bypasses the built-in DAC and extracts the audio data stored on the device in its original digital form in USB Host Mode. It then converts the high-quality files for bit-perfect and low-jitter music playback.
A portable power station for the ultimate headphone listening experience.
Icon iDo also offers a built-in headphone amplifier capable of powering power-hungry headsets, giving users a total audio experience. By properly powering headphones, Icon iDo enhances auditory performance of the headphones because optimal amperage is being delivered to them, allowing for greater audio clarity.
Specifications
Input:
USB (from iPod, iPhone, iPad)
Maximum sampling rate: 48kHz
Resolution: 24-bits
Output:
Analog RCA Output = 2Vrms
Digital Output: coaxial RCA 75-ohm
Headphone Output:
3.5mm full-size headphone output jack drives headphones up to 300-Ohm (12 mW@300-Ohm)
Headphone power spec:
130mW rms @ 16 Ohm
88mW rms @ 30 Ohm
51mW rms @ 60 Ohm
28mW rms @ 120 Ohm
12mW rms @ 300 Ohm
IR Remote Receiver:
Accept iPod remote control IR signals for volume and play back adjustment on iPod.
Frequency response: 10Hz to 20kHz (-0.5dB).
Power Requirement: 6.5V, 2.3A, 100-240VAC (Worldwide AC).
Dimensions: 6" x 4 1/2" x 1".
Included Accessories:
DC power supply
30-pin charge/sync USB Cable
The Icon iDo is available now for $249 from several online stores and Nuforce dealers. It will be available at Magnolia Home Theater (of Best Buy) retail outlets in November, 2011.
About NuForce:
Based in Milpitas, California, Nuforce first gained visibility for its patented Class-D power amplifiers, earning numerous awards from audio publications in the U.S. and Japan. Building upon its reputation as a company that developed state-of-the-art audio products, Nuforce worked diligently to expand its product line with digital-to-analog converters, in-ear and over-the-ear headphones, speakers and subwoofers, cables, additional home and headphone amplifiers, and other high-end audio accessories.
Today, Nuforce is sold internationally and remains firmly committed to being a high-performance consumer electronics company adhering to stringent quality standards, ensuring integrity and value in every Nuforce product.
# # #