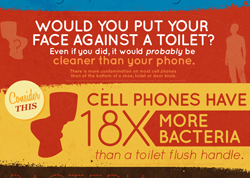 "This Infographic provides consumers with more reasons to think about less-than-hygenic practices that perhaps have never come on their radar screen,"
Conklin, NY (PRWEB) September 07, 2011
Maines Paper and Food Service, Inc. announced the launch of a new Infographic for its public awareness campaign called Keeping it Kleen, which focuses on simple things that can be done each day to help eliminate food borne illnesses.
The colorful Infographic connects consumers with a few startling sanitation facts such as:

Using your cell phone while cooking is a dirty habit, which can lead to food borne illness
Your cell phone has 18x more bacteria than a toilet flush handle
Most cell phones have more contamination on them than on the bottom of a shoe, toilet or door knob.
By this simple graphic tool, consumers are challenged to examine their daily habits related to cell phones and kitchen sanitation that could actually make them sick from cooking in their own homes. One statistic on the graphic notes that 80 percent of food borne illnesses are caused by dirty habits within the home, not at a restaurant. A compelling case is made to take these sanitation tips seriously, notes Keeping it Kleen's Operations Director Julie Lovelass.
"This Infographic provides consumers with more reasons to think about less-than-hygenic practices that perhaps have never come on their radar screen," said Lovelass. "In a simple and direct manner, consumers are reminded from the Keeping it Kleen Infographic that putting your face against a toilet is probably cleaner than putting your face against a cell phone screen. Now that's something to think about," she said.
The Infographic is just a portion of the strategy Maines is undertaking to help make food handling safety a common practice. The new interactive website, KeepingitKleen.com, includes a Home Kitchen Health Inspection Challenge, engaging articles and an emphasis on making safety and sanitation in the kitchen part of your daily routine.
Download the KeepingitKleen Infographics at: http://www.keepingitkleen.com/food-safety-facts-infographic.html
For more information log on to http://www.KeepingitKleen.com
###