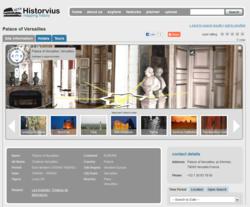 Streetview on Historvius offers unprecedented access to hundreds of the world's historic sites
UK, London (PRWEB) September 13, 2011
When it comes to choosing a holiday, a bit of inspiration can go a long way. Now, history travel website Historvius.com is offering users a new way to find their perfect destination.
The site, which maps historic places around the globe, has integrated Google Streetview into its functionality, letting people take a virtual stroll through hundreds of the world's historical attractions and opening up a myriad of vacation ideas.
According to the website's CEO Mike Lewis, this new feature is all part of making it easier, more practical and more fun for users to plan their ideal break:
"From roadside views of the stunning temples of Paestum to a stroll around Versailles and an interior tour of the Colosseum, Streetview offers unprecedented access to hundreds of the world's historic sites.
"This immersive experience can bring even lesser-known attractions to life for those seeking inspiration – allowing people to get an amazing preview of stunning historic sites without even having to leave home."
Streetview is available on hundreds of global historic sites and to enter street level, users simply drag the orange Streetview figure into the map to let their virtual exploration begin.
Users can explore a selection of the top Streetview picks by visiting http://www.historvius.com/streetview.
This integration is one of a major set of upgrades to Historvius, which adds a range of new features, including:

Country, City and Theme Guides: More guides to historic sites by country, city and by theme including historic period and figure.
Videos: Selected YouTube videos included in individual site entry pages, offering users another useful source of information about the world's historic attractions.
Hotels and Tours: Users can find tours and hotels near historic attractions, create a shortlist of their favourite historic sites, hotels and tours and book via Viator and Expedia. 
ABOUT HISTORVIUS:
Historvius is a community-based historic destinations directory run by history enthusiasts who are passionate about the web. To find out more, visit http://www.historvius.com.
###