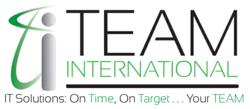 Chris Walton: "Outsourcing to a CMMI certified vendor assures a proactive and individualized approach to communication, solutions development and risk mitigation."
Lake Mary, FL (PRWEB) September 13, 2011
TEAM International has been rated at CMMI Level 3 since July 2008. Level 3 is defined as "process standardization" and reviews many software development areas.
Adherence to process-based quality ensures that TEAM International's software development methodologies are consistent, proactive, reflective and focused on constant improvement.
The 2011 KPMG Level 3 expectations for TEAM's compliance were more rigorous when compared to 2008. The results have confirmed TEAM's progress in management and engineering professionalism in delivery of world class service.
Chris Walton, president: "Adherence of CMMI Level 3 attests to TEAM's commitment to a customer-oriented and process-driven delivery."
To learn more about initial TEAM's CMMI level 3 appraisal, please read http://teaminternational.com/team_cmmi_level_3_appraisal.html.
About TEAM International
TEAM International (since 1991) offers offshore/nearshore application development and maintenance services to European and US IT organizations. TEAM International development center is located in Kharkov, Ukraine (Eastern Europe). TEAM International is U.S. owned and managed, CMMI Level 3 certified, IAOP "Global Outsourcing 100" and "Global Services 100" company. More information on TEAM International is available at http://www.teaminternational.com or by calling (407) 708-5804. Please follow us on Facebook, Twitter, and LinkedIn.
About KPMG
KPMG is a provider of professional services, which include audit, tax, legal, and advisory. They help clients across the globe exploit new opportunities, improve performance, manage risk and enhance value for both shareholders and stakeholders alike. More information on KPMG is available at http://www.kpmg.com.
###