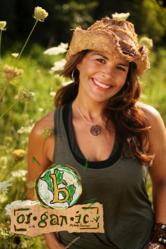 "Michele is a direct reflection of the THRIVE core values and brand. We are very excited to be working with such a dynamic team and personality".
Wichita, KS (PRWEB) September 08, 2011
Michele Beschen, and the B. Organic team, aligns perfectly with Alpha BioSystems' THRIVE, the all-natural organic growing solution. The two companies have joined forces to spread the word about how to live an organic lifestyle, and it's a win-win situation.
The Partnership
Alpha BioSystems is extremely excited to work with Beschen, who brings a welcome female perspective to the ever expanding THRIVE audience. Her outgoing and knowledgeable personality jive well with the energetic message THRIVE sends out to growers across the nation. What's more, Beschen is very well-known in the organic community for her how-to videos and articles, a showcase which directly reflects THRIVE's brand and core audience. B. Organic's how-to material spans from making delicious organic breakfast smoothies, to inventing salvage wine-stoppers, all the way to growing organic veggies.
Beschen and THRIVE have collaborated on various videos about how THRIVE can help maintain an organic lifestyle. These videos will be used for retail merchandising, and national television advertising by both parties.
Alpha BioSystems will introduce Beschen to their audience using promotional collateral, THRIVE's website (http://www.usethrive.com) and social media outlets such as Facebook. She will have an increasing presence on THRIVE material across the board, and a louder voice behind THRIVE's brand throughout the next year.
"Michele Beschen is a direct reflection of the Alpha BioSystems and THRIVE core values and brand. We are very excited to be working with a dynamic team and a personality that can bring the core female audience forward in an authentic natural manner," said Paul Grimes, Marketing Manager for Alpha BioSystems.
Michele Beschen and B. Organic
Michele Beschen combines the power of creativity with an enthusiastic passion for nature, and expresses it all through nearly every media outlet imaginable. The team at B. Organic has one goal, to reconnect people with their innate desire to live a naturally creative, organic lifestyle. Beschen founded her own company in 2002, called Simply Michele, Inc. (SMI). SMI is a multimedia company on a mission to empower people to explore, express and exchange fresh ideas through rousing content platforms built around originality and grassroots efforts. To date, SMI has produced television shows, written articles, created DVDs, and made appearances on hit shows such as Rachel Ray to iterate the company's mission.
Alpha BioSystems and THRIVE
Alpha BioSystems is the company behind THRIVE. THRIVE is an all-natural line of products which enhances the biological activity already going on in the soil to make vegetation stronger- faster. The different products include Flower THRIVE, New Plant THRIVE, Turf THRIVE, Tomato & Veggie THRIVE, Tree & Shrub THRIVE, Pet THRIVE, Compost THRIVE, Thatch REMOVER and Aqua-One. Using a proprietary liquid blend of beneficial bacteria combined with the helpful effects of mycorrhizal fungi, THRIVE offers a sustainable solution for vegetative health that works from the roots up- literally. The mycorrhizal fungi in THRIVE attaches itself to the roots of the plant, extending the root system and making the plant more able to obtain food and water from further away. The beneficial bacteria work in tandem with the mycorrhizae to create a stronger plant- one that's more able to withstand most diseases and requires less watering. It's all-natural, safe to use around pets and kids, easy to apply and impossible to over-treat.
###