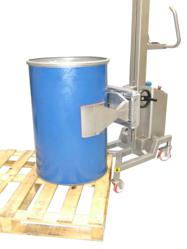 The new x-frame drum handling equipment is ideal for close access to the corner of pallets
(PRWEB) September 12, 2011
The new roll or drum handling lifting frame from Packline incorporates a unique 'X-Frame' design ideally suited for close access to the corner of pallets, when lifting drums or rolls of film or packaging material. Packline's range of stainless steel drum handling equipment is ideally suited for clean room environments such as food, drinks and medical processing industries.
The option of the X-frame design enables close access to the corner of pallets, rather than the more traditional side of pallet loading or unloading.The drum handling lifters are available in both stainless steel for clean room agri-business environments or painted mild steel for warehouse environments.Castors at the front of the lifter enable multi directional movement.
The unique X-frame design enables the roll or drum handling equipment to access the corner of pallet.The X-frame allows for easier loading and unloading of rolls and drums via the corner of pallet, rather than more traditional side loading.
This style of lifting equipment is ideally suited for closely packed rolls or drums, or where there may be limited access to the external circumference of the roll or drum.
The stainless steel drum handling equipment is capable of lifting loads up to 300kg. The heavy duty drum handling equipment has lifting capacities of up to 1200kg.
A full range of lifting and handling attachments is available for this style of lifting frame, including bespoke roll and drum lifting attachments.
The lifting attachments can be supplied permanently fixed to the lifter or fully interchangeable using the unique quick release system.
Any lifting frame leg length, or pallet size, can be catered for.
Bespoke attachments can be designed to provide a lifting and handling solution for most types of roll, reel, drum or barrel.
Packline Materials Handling has been designing and manufacturing lifting and handling equipment since 1993. The 'Compac' range of stainless steel roll and drum lifting and handling equipment has established Packline as a leading supplier of materials handling equipment for the food, drinks, dairy, pharmaceutical and medical processing industries.
The 'Compac' range of lifting and handling equipment, coupled with the comprehensive range of interchangeable attachments, provides handling solutions for most applications found in today's production environments.
Packline are also suppliers of mild steel and stainless steel heavy duty lifting equipment for handling drums and rolls of material. The range of lifters is available with bespoke lifting attachments suitable for heavy duty roll and drum handling, to suit both warehouse and industrial needs.
For further information on roll and drum handling equipment with the X-frame, or the full range of lifting and handling equipment, please contact Packline Materials Handling on +44 (0)1202 307700 or visit http://www.packline.co.uk.
Packline Ltd
Unit 28
Newtown Business Park
Ringwood Road
Poole
Dorset
BH12 3LL, UK
For a full list of worldwide distributors please visit Packline's website.
###