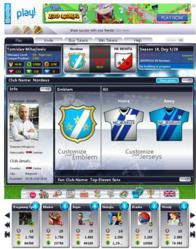 The reason Appatyze stood out for us is because it fulfilled two essential needs for any Facebook games developer; helping reach new users and providing an easy solution to actually monetizing the app
San Francisco, CA (PRWEB) September 13, 2011
Appatyze, the auctioning platform for buying and selling in-app advertising on Facebook applications, today announces that in just three months it has had over 200 leading Facebook developers register for its Appatyze Private Beta, where developers earn 100% of advertising revenue, and publishers can target individual applications with their advertising.
One developer that signed up in May 2011, Serbian-based Nordeus, has seen monthly players of its Top Eleven football manager game grow by over one million, to become the most played sports game on Facebook.
Tomislav Mihajlovic, Chief Operating Officer of Nordeus comments: "The reason Appatyze stood out for us is because it fulfilled two essential needs for any Facebook games developer; helping reach new users and providing an easy solution to actually monetising the app. It provides a solution to both sides of the coin in one system. After a short call with Appatyze, I was set-up in less than 15mins and using the platform. The quality of the service was fantastic and Appatyze have continued to be there to help at any point we've needed support over the last three months."
Today, Nordeus is also investing a significant amount each month to advertise Top Eleven through Appatyze above other specified apps, making sure it is reaching the desired audience and ones already engaged in social gaming.
Appatyze has also brought in a strong additional revenue stream for Nordeus. This means that in addition to their growing in-game revenues, they now have a robust and effective ad solution that allows them to monetize 100% of their user base, not just the core users who pay.
Branko Milutinović, the Nordeus CEO, has been impressed with Appatyze's ability to generate extra income for the brand. "Our games are meant to be free to play and Appatyze has proved to be a great partner for us, enabling us to monetize the non-paying user base as well."
About Appatyze
Appatyze is the online auction platform for buying and selling in-app advertising on Facebook. By providing an auction platform that delivers a competitive market place, Appatyze aims to supply advertisers and developers with the most effective ad solution on the market. Appatyze is based near London, UK and in San Francisco, CA.
###