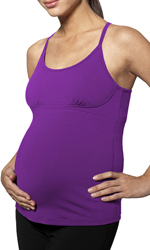 Charlotte, NC (PRWEB) September 08, 2011
ActivewearUSA.com introduces its new maternity activewear, yoga and fitness department with clothing lines tailor-made to provide superb style and quality fit throughout pregnancy. Featuring top brands including Zobha, Fit2BeMom, BornFit and Me2Roo, the new top and bottom apparel lines offer support, stretch, breath-ability and sweat-wicking properties to keep a woman motivated and feeling good about her changing body shape.
"As a company focused on women's activewear, adding a Maternity Activewear department made a lot of sense," says Avi Woolman, founder and CEO of ActivewearUSA.com. "Our customers look to us for high performance, stylish activewear that they can wear in and out of the gym, and being pregnant is no exception."
According to the American Pregnancy Association, a healthy fitness routine during pregnancy has been proven to have numerous benefits to mom and baby. Keeping up a workout routine helps reduce the risk of complications through pregnancy and during labor, as well as reducing weight gain making it easier to return to pre-pregnancy figure and fitness levels.
The American Pregnancy Association has found whether a pregnant woman already has a steady exercise routine or is starting out slowly, regular exercise increases energy to make it through the day. Popular activities offering moderate to lower impact activity include yoga, pilates and walking. Many gyms now also offer fitness classes created especially for pregnant women allowing them a great opportunity to get to know other women while improving their health.
The maternity activewear selection at Activewear.com includes yoga pants, workout tops, shorts and jackets featuring superb colors, well thought out designs, and details a woman will appreciate as she progresses through pregnancy. Their range includes workout pants with wide waistbands which roll down as tummies get larger, and tops that have a longer line giving greater coverage.
So whether a woman's fitness routine finds her stretching and relaxing in yoga classes, or walking in the park with friends, ActivewearUSA.com provides the high-performance fitness and pre-natal clothes that makes a woman feel gorgeous and comfortable.
About ActivewearUSA.com
ActivewearUSA.com was founded with the goal of providing the best yoga clothing and women's workout clothes on the market, to encourage women to look and feel their best while enhancing their life through fitness. Priding themselves on incredible and personal service, ActivewearUSA.com carries more than 60 high performance, stylish activewear brands, and sponsors women's fitness focused groups up and down the country.
###