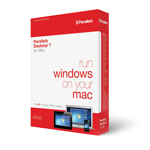 Parallels Desktop 7 for Mac lets you run popular apps like Internet Explorer, Access, OneNote, Quicken and more, even the most demanding graphical programs, without rebooting and without compromise on speed and usability — Birger Steen, Parallels CEO
Ottawa, Ontario (PRWEB) September 08, 2011
e-academy Inc is excited to announce that the newest version of Parallels virtualization software is now available for direct download via the OnTheHub eStore. Parallels Desktop 7 for Mac is the fastest, most intuitive version yet of the number one selling software for running Windows and Mac applications side-by-side on a Mac, without rebooting! Best of all, it's available to students and faculty at 50% off retail price.
Download Parallels Desktop 7 for Mac at the exclusive academic price of just $39.99 USD.
Parallels Desktop 7 for Mac boasts more than 90 new and enhanced features, such as Lion integration and support — including Launchpad and Mission Control for Windows — shared iSight and FaceTime HD cameras in both Windows and Mac and up to 1 GB of video memory. Parallels has also announced the new Parallels Mobile app with My Parallels service for the iPad, iPhone and iPod. This new app offers remote access and control of both Mac and Windows applications, with new Windows features including audio support for Flash and the ability to copy-and-paste between Windows and Mac on Apple mobile devices.
"As Macs have become more popular than ever, a growing number of Mac users find they need to run critical Windows programs on their Macs. Parallels Desktop 7 for Mac lets you run popular apps like Windows Internet Explorer, Access, OneNote, Quicken and more, even the most demanding graphical programs, without rebooting and without compromise on speed and usability," said Parallels CEO Birger Steen.
Kim Johnston, Parallels Vice President of Marketing added, "People are increasingly mobile and need to be able to work, get their studying done and enjoy their entertainment on the go. Parallels Mobile gives people the freedom to live a mobile life without compromising their ability to do the things they need to do from wherever they are and whenever they want."
Other new and improved features include:

Seamless integration, improved virtual printing and shared folders
Easily move files from PC to Mac with a new set of switching tools
Maximum speed and performance for 3D and graphic intensive applications
Richer audio
Improved battery life performance
Anti-Virus and Internet Security for both Mac and Windows
Parallels Desktop 7 for Mac is available for download to verified students and faculty, for only $39.99 USD. Back-to-school is here, so hurry over to OnTheHub and get Parallels Desktop7 for Mac today!
About Parallels
Parallels is a global leader in hosting and cloud services enablement and desktop virtualization. Founded in 1999, Parallels is a fast-growing company with more than 800 employees in North America, Europe and Asia. For more information, please visit http://www.parallels.com, follow us on Twitter at http://www.twitter.com/ParallelsMac and Like us on Facebook at http://www.facebook.com/ParallelsDesktop.
About OnTheHub
OnTheHub Network is a collection of WebStores brought to you by e-academy Inc, in partnership with your school or academic institution, software publishers and educational resellers. When your school is part of the OnTheHub Network, you get access to exclusive discounts and deals on academic software. The Network consists of one global eStore, which students, faculty and staff worldwide can access, as well as over 30,000 school-branded WebStores that carry school-specific deals and academic pricing on software.
###