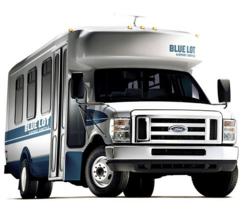 "Today's fleet managers are turning to propane autogas for their shuttles and buses as a clean safe, affordable, reliable, and efficient alternative fuel."
Washington (PRWEB) September 13, 2011
Today the Propane Education & Research Council (PERC) demonstrates how fleet managers and executives can reduce emissions and maintenance costs with buses fueled by propane autogas at the 2011 BusCon Expo at Chicago's Navy Pier, which runs through tomorrow.
On display in PERC's Propane Autogas Pavilion, booth No. 226, are a CleanFuel USA propane autogas refueling dispenser and a Roush CleanTech Ford E-450 shuttle bus fueled by propane autogas. The 30-passenger vehicle uses a 6.8-liter engine and a 41-gallon fuel tank that allows for a range up to 320 miles. Also on display is a zero-turn-radius commercial mower supplied by Metro Lawn LLC. It demonstrates the flexibility and benefits of this domestically abundant, clean-burning fuel that is ideal for bus transportation markets.
A PERC spokesperson will participate on a panel of alternative fuel industry experts in the session "Making the Move to Alternative Fuels." Panelists will discuss available fuel options, including propane autogas, refueling infrastructure and maintenance costs, and how to switch a bus fleet to an eco-friendly alternative fuel.
"Today's fleet managers are turning to propane autogas for their shuttles and buses as a clean safe, affordable, reliable, and efficient alternative fuel," PERC President and CEO Roy Willis said. "Choosing propane autogas means choosing the most widely used alternative transportation fuel in the engine fuel in the nation — a fuel with an established infrastructure and less maintenance and fuel costs."
A keynote address by Mark Smith, vehicle technologies deployment manager at the Energy Department, will explain how the department's Clean Cities program can help fleets incorporate alternative fuels.
Fleet vehicles fueled by propane autogas include light- and medium-duty trucks, vans, passenger vehicles, school buses, and taxis. School buses fueled by propane autogas are available from, or are being developed by, industry leaders such as Blue Bird Corp., Collins Bus Corp., Thomas Built Buses, and Freightliner Custom Chassis. Propane autogas buses produce fewer annual life-cycle greenhouse gas emissions per year than buses fueled by compressed natural gas or gasoline.
On average, fleet vehicles fueled by propane autogas emit 12 percent less carbon dioxide, about 20 percent less nitrogen oxide, and up to 60 percent less carbon monoxide than gasoline-fueled vehicles. Propane autogas is the leading alternative energy source in the United States, fueling more than 270,000 on-road vehicles domestically and 15 million vehicles worldwide.
Working with industry partners, PERC supports the research, development, and commercialization of new engines and vehicles fueled by propane autogas. For more information on PERC and its programs, visit http://www.autogasusa.org. For more information on BusCon, visit http://www.busconexpo.com.
The Propane Education & Research Council was authorized by the U.S. Congress with the passage of Public Law 104-284, the Propane Education & Research Act (PERA), signed into law on October 11, 1996. The mission of the Propane Education & Research Council is to promote the safe, efficient use of odorized propane gas as a preferred energy source.
# # #