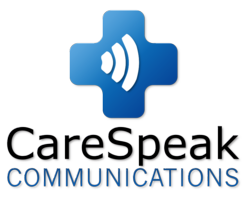 East Brunswick, NJ (PRWEB) September 08, 2011
Easter Seals New Jersey has partnered with CareSpeak Communications to bring mobile health tools to individuals living with disabilities in New Jersey.
"Easter Seals New Jersey's mission is to enable individuals with disabilities or special needs, and their families, to live, learn, work and play in their communities with equality, dignity and independence," says Brian Fitzgerald, president and CEO of Easter Seals New Jersey. "One of the challenges we face with individuals, who leave our community homes, is that they return quickly due to deteriorating health caused by medication non-compliance. Most of these individuals take up to a dozen medications a day, and it can get very confusing for them. We see great potential in using simple mobile technologies, such as CareSpeak's mHealth platform to address this issue."
The CareSpeak two-way text messaging mHealth platform enables individuals, living in community housing or transitioning into independent living, become more compliant with their medical treatment regimens. It also enables community home managers and nurses to manage and monitor large patient populations.
When it's time for the individual to take their medications, the system sends them a text message alert with detailed instructions. Using very simple text commands individuals can confirm intake. If the individual doesn't confirm medication intake within a pre-determined amount of time (e.g. 30 minutes), a follow up escalation text alert is sent to up to two caregivers, in this case the community home managers and/or nurse, alerting them that patient potentially didn't take the medication. The caregiver message included the patients' cell phone number allowing for immediate dialing.
Additionally, patients with type 1 and 2 Diabetes can be prompted by the CareSpeak system to measure and report their blood sugar levels (BGL). The reported values are charted on-line and can be taken to the next doctor's visit. If patients forget to report their BGL, or report BGL values that are out-of-safe range, the CareSpeak mHealth system notifies the caregivers allowing for immediate intervention.
CareSpeak's system uses everyday technology and existing behavior to help solve this significant problem of compliance. It is easy to use, affordable and accessible anytime, anywhere, making it especially suitable for individuals who do not have smart phones running apps requiring costly data connectivity plans. It doesn't require learning a new system or purchasing and carrying another device.
The efficacy of the CareSpeak mHealth system was tested with the Mt. Sinai Medical Center's pediatric liver transplant program, and results were published in the November 2009 issues of Pediatrics, and it was subsequently written about in the New York Times. The study found that as a result of receiving regular text alerts through the CareSpeak system, patients were more likely to have higher adherence rates. The number of rejections dramatically decreased from 12 episodes the previous year to only two during the study.
"Easter Seals is very excited about the impact mHealth's cutting-edge assistive technology can have on our program participants," says Charles Parry, vice president of Easter Seals New Jersey's Behavioral Health Services. "Since the goal of our program is to help Easter Seals residents with mental illness learn how to be independent and avoid future hospitalizations, remaining in compliance with their prescribed medications is a crucial part of their success after they leave our care. We're optimistic about mHealth's technology providing the additional support to the people who struggle with medication adherence and the management of diabetes and how it may increase their potential for long-term success."
"We are thrilled about the opportunity to work with Easter Seals New Jersey's staff, as it is very important to understand how to deliver better healthcare services to the underserved populations that generate a large part of the US healthcare cost. Finding ways to deliver better preventative care to them is of great significance." said Serge Loncar, CareSpeak Founder and CEO. Loncar further said "According to a report published by the Taskforce for Noncompliance in 1994, the direct and indirect impact of medication non-compliance is over 100 billion dollars per year in the US alone. With the aging population trend and earlier onset of illnesses such as Diabetes, this number is only going to get bigger. At CareSpeak, we believe that a simple and reliable technology such as the CareSpeak mHealth system can have a huge public health and economic impact."
For additional information please contact:
Serge Loncar, CareSpeak Communications, Telephone: +1 (646) 504-2273, E-mail: sloncar(at)carespeak(dot)com, web: http://www.carespeak.com
CareSpeak Communications provides mobile communications technology solutions to health care professionals, patients, and caregivers for better medication compliance resulting in more successful treatment outcome for the patient, increased profit and cost savings for insurers and employers respectively, and increased revenues for pharmaceutical companies, retail pharmacies & PBMs. CareSpeak Communications is a New Jersey based, privately held company.
Easter Seals New Jersey is committed to creating solutions and providing programs that produce tangible results in the lives of approximately 6,500 individuals and families in New Jersey. The mission of Easter Seals New Jersey is to enable individuals with disabilities or special needs, and their families, to live, learn, work and play in their communities with equality, dignity and independence. A leading non-profit provider of comprehensive services for individuals with developmental disabilities including autism, physical disabilities, mental illness and other special needs, our services have been geared toward helping individuals remove obstacles along their path toward independence and full community-integration for over 60 years. For more information on Easter Seals New Jersey and its statewide disability services, please contact us at 732-257-6662, or visit on-line at http://www.eastersealsnj.org or http://www.facebook.com/eastersealsnj.
###