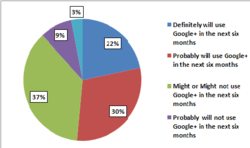 Google+ was only introduced earlier this summer. For a new product to have this much market penetration and awareness is very unusual.
Atlanta, GA (PRWEB) September 15, 2011
Polaris Marketing Research Inc. and its data collection partner SSI announced today that in its latest study of American consumer behavior online, 18 percent of respondents report using Google+. Additionally, among respondents not using Google+, 51 percent say they are "very or somewhat familiar" with Google+. Only 16 percent of online consumers say they have never heard of Google+.
"Google+ was only introduced earlier this summer. For a new product to have this much market penetration and awareness is very unusual," said Polaris President Jan Carlson. "What's especially interesting is the number of social media users who are planning to move to Google+. In the next six months, 22 percent of online Americans say they will "definitely" use Google+ and another 30 percent say they "probably" will use Google+."
Among current Facebook users, 13 percent are currently also using Google+. Among Facebook users who are not currently using Google+, 57 percent say they "definitely" or "probably" will use Google+ in the next six months.
Google+'s much-touted ability to allow users to better manage interactions between the many different types of relationships they have may not be the service's greatest appeal for Facebook users. The Polaris/SSI survey found that only 16 percent of Facebook user respondents agreed or agreed strongly with the statement "I have trouble separating my business and personal friends on Facebook."
Polaris and SSI conducted online surveys with a representative sample of 1,000 American consumers during the week of August 15, 2011.
Founded by Jan Carlson, Polaris Marketing Research is a full-service firm that provides state-of-the-art online interactive marketing research reporting, interviewing and data collection, quantitative and qualitative research expertise and personalized project management.
Atlanta-based Polaris Marketing Research is affiliated with the Council of American Survey Research Organizations, the American Marketing Association and the Marketing Research Association.
Bringing together Survey Sampling International and Opinionology, SSI is the premier global provider of world-leading sampling, data collection and data analytic solutions for survey research. SSI reaches respondents in 72 countries via internet, telephone, mobile/wireless and mixed access offerings. Value-add services include questionnaire design consultation, programming and hosting, data processing and real-time reporting. SSI serves more than 2,000 clients, including the top 50 research organizations. It has 30 offices serving clients around the world.
For more information, call Danica Kwon at 404-816-0353 (Danica.kwon(at)polarismr(dot)com) or visit us at polarismr.com.
###