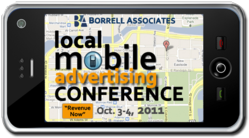 ...if they (local media) don't wake up to mobile it is going to be exponential in terms of disaster."
New York, NY (PRWEB) September 07, 2011
It could be a (financial) "disaster" for local media companies if they don't act now on mobile media opportunities warns Chuck Martin, author of "The Third Screen: Marketing to Customers in a World Gone Mobile." Chuck Martin will be a keynote speaker at the Borrell Local Mobile Advertising Conference to be held at The Fairmont Chicago Hotel on October 3 & 4. A special Mobile Video Workshop is being held Sunday afternoon, October 2. Registration is still available.
Chuck Martin expressed his views on mobile marketing and local media companies such as newspapers, TV and radio in an advance interview with Borrell Associates EVP, Peter Conti, last week.
"Mobile is moving forward much faster than the Internet did," said Chuck Martin. He is emphatic that, "Local media companies need to wake up."
"Many local media companies fell apart at the beginning of the Web… if they don't wake up to mobile it is going to be exponential in terms of disaster," charges Martin who is also the CEO of The Mobile Future Institute and Director of the Center of Media Research at MediaPost Communications Inc.
In addition to Chuck Martin, other featured speakers at the conference include Iryna Newman who is the head of mobile marketing for Groupon, John Hilton, Executive Director of Channel Sales for Pandora, Placecast CEO, Alistair Goodman and Hopstop CEO, Joe Meyer. See the complete agenda.
About Borrell Associates
Borrell Associates is an advertising research and consulting firm that assists local media Web sites in maximizing their ad revenue. Borrell Associates helps media companies to develop and implement fact-based strategies and ad-sales tactics supported by our proprietary local ad-spending data through products such as the Compass Report that details local ad-spending patterns for 100 businesses by 13 media. In 2011, Borrell Associates acquired Belden Interactive, a leading survey research firm studying ad-spending intentions at the local-level by SMBs.
Borrell Associates holds annual advertising conferences for both online and mobile media. Its Local Mobile Advertising Conference will be held on October 3 & 4, in Chicago.
###