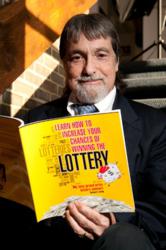 Don't get suckered in.
Orlando, FL (PRWEB) September 08, 2011
Fake lottery scams are stronger than ever. Most of us have received a mysterious email offering millions of dollars as the recipient of some nebulous overseas jackpot. Often preying on seniors and others who are willing to believe that their luck has turned and fortune has finally smiled on them.
With a still struggling economy and most Americans now on-line, scammers are working hard to get you to part with your money. Many of these lottery scams center on a potential victim being contacted via email and told they have won a large cash prize. Then the scam artist informs the victim that they must pay a fee – often several thousand dollars – to secure release of the funds. It's usually described as taxes or a processing fee.
Some really bold scammers follow up those emails with repeated calls to their victims. Jamaican thieves recently targeted a West Virginia man, pressing him for taxes, bank charges and other fees in order for him to receive a purported $10 million lottery prize. Before he caught on, the rip off artists collected more than $40,000.00 from the victim over a 10-month period, as reported by WTOV9 at http://www.wtov9.com/news/29028159/detail.html. The state's Attorney General is investigating.
How could this happen? "They convince people that the winnings are real, using personal information about you. But, most of that information is actually available on the internet for anyone to see," says seven time lottery game grand prize winner, Richard Lustig.
Lustig, the author of "Learn How To Increase Your Chances Of Winning The Lottery" has won millions in legitimate state lotteries and has taught others who have also won millions using his winning lottery method. He's now making it his personal mission to educate people so they don't fall victim to these scams. "The sad fact is that many times, these scam victims are those who can least afford to be taken advantage of. The gentleman in West Virginia has only Social Security to support him, is disabled, and needed the income for his hospitalized wife and family. He borrowed thousands of dollars to pay the bad guys, and can't make his house payment now, so he's facing foreclosure. It breaks your heart when you hear these stories, and makes me furious when people get taken advantage of," said Lustig, who added that he teaches people who play legitimate lotteries to always play within their budget, and to remember that state lottery proceeds pay for schools, roads and other civic improvements.
Lustig has these tips to make sure you don't get taken by a lottery scam:
-You can't win a lottery if you didn't enter a contest, purchase a ticket, etc. If you don't remember playing the lottery or sweepstakes, ask for proof that you actually entered.
-A lot of your personal information is now available on line; don't be lulled into a false sense of security just because scammers can tell you your spouse or children's names, home address, or other details about you.
-Since scammers often target seniors, children and caregivers should be sure to engage with them to make sure they are aware of these rip-off artists, especially if the senior is not very internet and computer savvy
-Take your time; don't act immediately even if someone gives you a high-pressure deadline to "collect your winnings".
-Don't ever send someone money in order to collect your winnings. Paying a fee to claim a prize is a big sign of fraud. Be especially wary of requests to wire money or send it via private courier services; that could mean the scammers are trying to sidestep postal inspectors.
-The old saying is true; if it sounds to good to be true, it probably is. " No one can guarantee that you will win a lottery or sweepstakes, that you'll make a boatload of cash from business opportunities with little or no work, or promise you high returns on investments with little or no risk," says Lustig. "Don't get suckered in."
7 time lottery game grand prize winner Richard Lustig has appeared on Good Morning America, The Today Show Australia, Woman's World magazine, CNN, Fox News, Sirius/XM, Westwood One Radio, The Rachael Ray Show, Ripley's Believe It Or Not and dozens of other leading media outlets. Visit him online at http://www.winninglotterymethod.com.
# # #