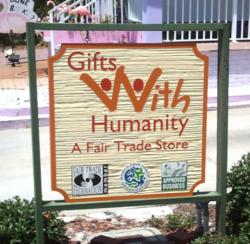 New Smyrna Beach, FL (PRWEB) September 10, 2011
As a Fair Trade store, Gifts With Humanity is primarily focused on poverty in the developing world. In the 10 years since the founders Kevin Ward and Renice Jones launched the Fair Trade organization, they have generated over $3,350,000 in sustainable orders to artisans seeking to lift themselves out of poverty through Fair Trade. Working with artisans and cooperatives in Africa, Haiti and worldwide, the company supplies unique, handcrafted items to more than 800 stores through its wholesale division Global Crafts.
Earlier this year the founders opened a bricks and mortar store in New Smyrna Beach, FL under the brand Gifts With Humanity. For Ward the store is about building a bridge between the core mission of poverty reduction through trade and the clear needs of US based Good Causes. By partnering with great local Good Causes Ward hopes to make a connection between the developing world work of the company and the fundraising needs of local causes, such as Cudas Unhooked.
The VIP Shopping for a Cause event is an invitation only shopping event for both the supporters of thh cause and the regular customers of Gifts With Humanity. 10% of the store's sales throughout the day and during the event will be donated to Cudas Unhooked. Ward hopes the event will bring awareness to Cudas Unhooked and its mission while thanking Gifts With Humanity customers for their support. "There are so many local Good Causes out there," Ward said. "I know this will be the first of many such Gifts With Humanity events."
Visit its website for more information on Cudas Unhooked.
###