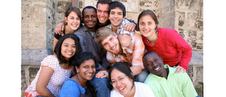 Education is deeply enhanced by a creative, vibrant and multicultural environment.
Montreal, Quebec (PRWEB) September 08, 2011
Part French and English language and arts school, part contemporary photography gallery, the eclectic and lively New Centre for Languages and Arts is destined to become a home to students, artists and professionals alike.
"After years in academia and the arts, I felt ready to create a home for my various passions. I've seen time and time again how education is deeply enhanced by a creative, vibrant and multicultural environment. The New Centre is a culmination of what are considered to be key elements of innovative, effective language and arts programming," says Director Cara Weston-Edell.
The centre offers full-time and part-time language programs in English and French for Canadian and international students, as well as arts classes in film studies, theatre, photography and music. Students can focus on one subject area, or sample a variety depending on their interests. Situated in a 19th century building on de la Commune, across from the Montreal Quay, the interior spaces of the centre blend historical and contemporary features, and highlight changing photography exhibits visible from the classrooms.
According to Weston-Edell, the Centre provides a highly personalized "boutique" educational experience with small class sizes and a focus on meeting each student's goals. In addition, the centre's instructors employ techniques honed from their global education work in private institutes, colleges and universities.
"The majority of New Centre instructors have worked and lived around the world, have graduate degrees in their fields, and have taught and worked professionally for an average of ten years or more. We have sought out exceptional instructors for all of our programs," adds Weston-Edell.
The center also houses a contemporary photography gallery for local and international artists. The grand opening of the center on September 16 coincides with the upcoming exhibit highlighting the work of established Montreal artist Ronald T. Simon, noted for his photography of the renowned Bread and Puppet Theater, and most recently, his multimedia work at Concordia University with philosopher Erin Manning.
Language classes are taught by instructors with masters degrees in second language acquisition, and certification through TESL Canada, the national accrediting organization. Weston-Edell holds a graduate degree from Columbia University and has completed doctoral research looking at best practices in international education projects. Film and theater classes are offered by instructors such as Frederick Edell, a Yale Drama School graduate who has studied with Bill Hickey at the at the Hagen Berghof Studio and William Ball at Circle-in-the-Square. He has also studied Noh and Kyogen in Japan, Shakespearian techniques at the University of Bristol in England.
An extension of the centre includes educational consulting services offered by associated academics and professionals based around the globe. Individuals and organizations in Canada and abroad seeking support for academic program development, faculty training and recruitment, partnership development, student advising and other educational needs can find it through The New Centre.
If you're interested in taking classes at The New Center, exhibiting your photography, or getting involved in some way, contact Cara Weston-Edell at 1-514-564-9264 or email info(at)thenewcentre(dot)com. For detailed event and class information, please visit http://www.thenewcentre.com.
The grand opening is free to the public and begins at 7 pm on September 16, 2011. Refreshments will be served.
###