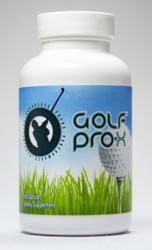 We're thrilled for Mark Calcavecchia's win and delighted that he's achieved such great results since he started taking GolfProX
Mississauga, Ontario (PRWEB) September 09, 2011
Mark Calcavecchia, a devoted user of GolfProX fitness supplement for golfers, claimed his first Champions Tour victory at the Boeing Classic on August 28. The win highlights a 2011 season in which Calcavecchia has improved in numerous statistical categories and underscores the benefits of GolfProX.
Calcavecchia scored better each day at the Boeing Classic, firing rounds of 70-67-65 at the TPC Snoqualmie Ridge (Snoqualmie, Wash.). A birdie on the first hole of a sudden-death playoff earned him the win and $300,000 prize.
Calcavecchia's performance spotlighted the many benefits of using GolfProX -- the only doctor-recommended fitness supplement created especially for golfers. A quick look at Calcavecchia's stats reveals strength in each of the four areas GolfProX is designed to enhance:

Mental focus, calmness and clarity: Calcavecchia averaged just 26.3 putts per round to rank second in the field.
Stamina: In the final round, he birdied the last three holes in regulation and the first playoff hole.
Joint recovery: Calcavecchia conquered one of the longest, hilliest courses on the Champions Tour. The TPC Snoqualmie Ridge measures 7,264 yards and boasts nearly 300 feet of elevation change.
Flexibility: Calcavecchia led the field in driving distance with an average tee shot of 307.8 yards.
"In thirty years on the PGA Tour, I've seen many products, tried many teaching aids, and nothing has helped me focus and improve my game like GolfProX," Calcavecchia says.
Adds GolfProX President Mark Taha: "We're thrilled for Mark and delighted that he's achieved such great results since he started taking GolfProX. I must say that Mark's outstanding play comes as no surprise. Evidence shows that GolfProX can have a major impact on the scores of any golfer, from world-class pros to weekend warriors, while providing off-course benefits as well."
With the victory, Calcavecchia jumped from eighth to third on the Champions Tour money list and now stands second in the Charles Schwab Cup points race. He continues to lead the tour in top-10 finishes (10) and par breakers (27.04% of holes played) while ranking second in scoring average (69.04), fifth in driving distance (289.6 yards) and fifth in putts per round (27.81).
Each area represents an improvement on his 2010 statistics.
"Professional golf requires immense focus and stamina," Calcavecchia notes. "GolfProX helps me achieve that."
A 13-time winner on the PGA Tour and the 1989 British Open champion, Calcavecchia began using GolfProX in early 2011 when, he says, "my game needed a lift." The non-prescription dietary supplement, developed by a respected, widely published physician, combines 19 ingredients to support and improve four health areas considered most important to golf success – mental focus and clarity; stamina; joint recovery; and flexibility.
A study published in the Journal of the International Society of Sports Nutrition showed that golfers using the ingredients in GolfProX exhibited marked improvement over those not taking the supplement.
GolfProX comes with a money-back guarantee and may be purchased at http://www.GolfProx.com. Visit the website for more information about the supplement's ingredients, features and benefits.
###