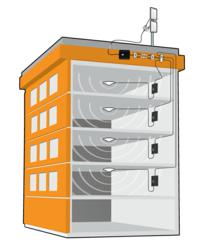 Our commercial solutions benefit multiple wireless device users by reducing dropped cell phone calls and increasing cellular data speeds on iPhones, DROIDS and other smartphones, as well as iPads, tablets and air cards.
Indianapolis, IN (PRWEB) September 08, 2011
Wi-Ex, a leading provider of commercial and consumer cell phone signal booster kits, is showcasing its new zBoost Commercial Solutions Division Kit at CEDIA. Displayed in booth 4434, the zBoost Commercial Solutions Division (CSD) improves cellular voice and data signal within buildings from 10,000 to 250,000 square feet. CEDIA attendees can get started with a special offer on zBoost products and a chance to win a free iPad.
"The zBoost Commercial Solutions Division provides an affordable and uncomplicated solution designed to meet the needs of challenging indoor environments," said Sharon Cuppett vice president of marketing with Wi-Ex. "Today's mobile lifestyle requires a strong indoor cell phone signal for users to stay connected to work and family. Our commercial solutions benefit multiple wireless device users by reducing dropped cell phone calls and increasing cellular data speeds on iPhones, DROIDS and other smartphones, as well as iPads, tablets and air cards. This can translate to attracting and keeping tenants, as well as increasing employee production."
CEDIA attendees have three ways to enter the drawing for the iPad including dropping a business card off at the Wi-Ex booth 4434, placing an order for the show special during the show or attending a Wi-Ex training session on September 9 or September 10 in the Michigan room at the Marriott at 10:00am. Only one submission per qualifying action is allowed with a maximum of 3 submissions per person. The drawing will be held at the Wi-Ex booth at 3pm on September 10.
The Wi-Ex Commercial Solutions Division Kit provides solutions to increase cellular coverage inside buildings ranging in size from 20,000 square feet to 100,000 square feet. The Commercial Solutions Division Kits, a 2011 EXCITE Award Honoree, contain the equipment list, system design, installation tips, and engineering support.
CEDIA SHOW SPECIAL
CEDIA attendees can receive special pricing for orders made during the show on zBoost products including:

zBoost SOHO - Designed for consumers, zBoost SOHO cell phone signal boosters extend a Cell Zone™ for multiple users and ALL devices operating on 800 and 1900 MHz frequency bands except those using Nextel/iDEN, 4G or 2100MHz. The zBoost SOHO boosts signal up to 3000 square feet, making it perfect for your home or office.
zBoost CI YX745 - a BiDirectional Amplifier (BDA) System which captures and amplifies the cell signal to extend a Cell Zone up to 12,000 square feet. The zBoost YX745 is designed for the professional installer and sold only to professional installers supporting both 800MHz (Cellular) and 1900MHz (PCS) bands.
zBoost RF Signal Meter - reads the signal level for best placement of an antenna or aiming of a directional antenna. In addition, it will help the installer identify the signal strength and variation inside the building to aid in the placement of the internal antenna. It is designed to operate in both the CELL and PCS bands.
Benefits of zBoost include:

Decreases dropped or missed calls
Enhances the performance of your connected device, cell phone, smart phone and wireless data card
Extends phone battery life (uses less power when signal is stronger)
Works with all phones and U.S. carriers (except Nextel/iDEN)
Maintains network integrity using patent-pending technologies
Manufactured with the highest quality control – (individually calibrated)
About Wi-Ex
Wi-Ex (http://www.wi-ex.com), a leading provider of cell phone signal boosters, developed zBoost, the first consumer-priced signal booster that "extended cell zones" for the small office/home office cell phone market. Wi-Ex has expanded their "extending cell zone coverage" beyond consumers to corporate enterprises and large commercial applications. From M2M applications to large commercial complexes to the rising number of teleworkers, the zBoost line provides a business-centric solution for improving poor in-door cell phone coverage domestically and internationally. The zBoost product line works with most carriers in the US and abroad including AT&T, Sprint, Vodaphone, Verizon and T-Mobile. The award-winning zBoost home and office solutions help today's connected consumers including iPhone, iPad, Android (DROID), BlackBerry, and smartphone users with dropped calls and slow data. They were awarded a 2007 and 2010 Consumer Electronics Association Innovations Honoree by the Consumer Electronics Association (CEA) and a 2011 EXC!TE honoree. They also were selected as a finalist for the 2007 and 2009 CTIA Emerging Technologies (E-Tech) Award. As the leader, zBoost has more awards, more sales and more locations than all their competitors combined. Wi-Ex continues to develop innovative products to meet the demands of an increasingly wireless society by enhancing wireless signals.
# # #