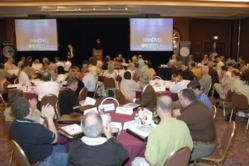 Knoxville, TN (PRWEB) September 09, 2011
The Global TapRooT® Summit, bringing together safety professionals, reliability specialists, risk managers, engineers, mechanics, quality improvement specialists, healthcare professionals and root cause analysis experts from around the world, today announced confirmed keynote speakers.
The Summit will feature presentations from such keynote speakers as one of the real-life heroes of Apollo 13, veteran Apollo/space shuttle astronaut Ken Mattingly; the manager of safety at Codelco, who will discuss the rescue of 33 Chilean miners, Aguilar Sáez René Alejandro; and an executive panel who will answer, "What does senior management want from incident investigations and root cause analysis" including Gerry Migliaccio, Senior Vice President, Network Performance for Pfizer Global Manufacturing; Zena Kaufman, Divisional Vice President of Global Pharmaceutical Operations, Pharmaceutical Manufacturing QA at Abbott Laboratories; and Vicki Hollub, President and General Manager of OXY Permian CO2 Business Unit.
Keynote speakers also include an authority on sparking innovative ideas to handle conflict, reduce stress and energize employees, motivational comedian, Christine Cashen; and an award-winning business communications expert featured on national television and known as "The Doctor of Encouragement," Dr. Beverly Chiodo.
A complete list of speakers and session topics are available at: http://www.taproot.com/summit.php.
About System Improvements
System Improvements has 40+ highly skilled instructors/investigators/facilitators who teach public and onsite TapRooT® Courses globally and provide on-site consulting. Companies around the world have used the TapRooT® system to help people investigate accidents, incidents, quality problems, equipment failures, schedule delays, cost overruns, hospital sentinel events, and many other types of problems. TapRooT® is also used to improve the effectiveness of audits, observations, and self-assessments in proactive improvement efforts. More information about the company is available at http://www.taproot.com.
###