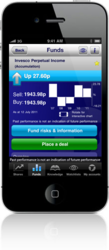 The app has already been downloaded over 12,000 times since its launch last month.
Bristol, UK (PRWEB) September 08, 2011
"Hargreaves Lansdown has launched its unique mobile app to meet the increasing demand for mobile access to websites and online services. The HL Live mobile app is the only app which allows investors to view their ISA, SIPP and other investments, and trade funds and shares, on both iPhone and Android systems." Danny Cox, Head of Advice, Hargreaves Lansdown
Tom McPhail, Head of Pensions Research: "The app will support our private clients, employees of our corporate wrap clients and encourage a new generation of investors who will consider mobile access a necessity. The solution to the pensions crisis lies in investor engagement; Hargreaves Lansdown is making it easier for investors to engage with and manage their long term savings."
The app has already been downloaded over 12,000 times since its launch in August.
Over a quarter of adults (27%) and almost half of teenagers (47%) now own a smartphone, according to Ofcom's latest Communications Market Report. There has also been a forty-fold increase in the volume of mobile data transferred over the UK's mobile networks between 2007 and 2010 and a 67% increase in 2010 alone.
2010 saw a large migration of customers from pre-pay to contract mobile phone services. At the end of 2010, 49% of mobile subscriptions were contract, compared to 41% a year previously. This is attributed in a large part to the popularity of smartphones.
Hargreaves Lansdown has seen a 236% increase in people accessing our website from a smartphone or iPad, and some investors opening ISA accounts through a mobile device.
There are 425,000 apps on iTunes App store and 15 billion have been downloaded up to July 2011 (source: Apple).
HL Mobile App features

Secure login to ISA, SIPP, Fund and Share Vantage accounts
Fund, share and ETF dealing
Prices, news and research
Interactive performance charts
Personalised fund and share watchlists
It's FREE
App 'screen shots' are available on request
App Security
Hargreaves Lansdown takes security very seriously and, as such, the HL Live app is every bit as secure as our website. We've invested in a range of physical, electronic and procedural controls to help protect investors and their money.
All information that is sent and received via the app is passed securely over 128-bit encryption, the same high level of security as our website.
Hargreaves Lansdown chose Mubaloo to develop the HL Live app as they have considerable experience of developing mobile apps for the financial sector.
"Mubaloo have delivered exactly what we were looking for; a ground breaking, mobile app which would enable our clients to enjoy simple, flexible access to the markets and to their investments wherever and whenever they want."
About Hargreaves Lansdown
Hargreaves Lansdown is a leading provider of investment management products and services to private investors in the UK.
Founded in 1981 by Peter Hargreaves and Stephen Lansdown, Hargreaves Lansdown floated on the UK stockmarket in May 2007 and is currently included in the FTSE 100 index. Hargreaves Lansdown is a broad and diversified business and has established a reputation for providing high quality service and value for money products to private and corporate investors. Key features of Hargreaves Lansdown's business include:
Providing investment products (including ISAs, SIPPs, funds, equities, venture capital trusts and pensions), as well as fund selection, stockbroking, advisory, discretionary and asset administration services.
Administering approximately £23.1 billion of assets through Vantage directly on behalf of approximately 380,000 private investors. In total, Hargreaves Lansdown has £24.6 billion of assets under administration and management.
The group manages £2.3 billion of funds through its own range of proprietary multi manager funds and a discretionary management service, of which some £800 million is held within Vantage.
Hargreaves Lansdown aims to provide the best information, the best service and the best price. Hargreaves Lansdown provided over £180 million in discounts and rebates for their clients over the last year.
Based in Bristol, the business employs over 600 people and has been recognised through numerous industry awards, including:
Best SIPP Provider 2010 – What Investment
Best Independent Financial Adviser 2010 – What Investment
Best Investment Adviser 2009 – Money Marketing
Best Investment Manager 2008 – FT and Investors Chronicle Wealth Management Awards
About Vantage
Vantage is the Group's direct-to-private investor fund supermarket and wrap platform. The wrap service is suited for clients who like to make their own investment decisions or choose from Hargreaves Lansdown's multi-manager range. The investments are administered by Hargreaves Lansdown and held in nominee accounts. Vantage offers clients the administrative convenience of holding all their assets (whether funds, equities or cash) in one place with online access via ISAs, SIPPs or with no tax wrapper.
We now also offer Corporate Vantage, a workplace savings account which employers can offer to their staff. Both employer and employee can contribute to a SIPP, ISA or investment account via payroll. Employees can then view and manage their savings online, through a website branded to their employer.
###