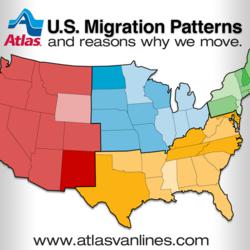 Evansville, IN (PRWEB) September 07, 2011
Atlas Van Lines has taken findings from their latest migration patterns study and an American Housing Survey for the United States to develop an infographic that illustrates the top reasons for moving. Additionally, the infographic shows which states have a majority of household moves coming in to the state and which have a majority moving out. The infographic can be found at http://www.atlasvanlines.com/infographics/moving-patterns-reasons/.
Of particular interest are regional differences in why people are moving. Very few people in the U.S. move due to loss from a natural disaster, but people in the South are more likely to have moved for this reason in 2010 than in any other region. People in the West are more likely than those of any other region to have moved because of marriage.
The infographic, "U.S. Migration Patterns and Reasons Why We Move," utilizes the annual Atlas Van Lines Migration Patterns study, which provides a snapshot of relocation patterns.
Nationwide, the top five reasons for moving include:
1. To establish own household
2. To be closer to work/school/other
3. Needed larger house or apartment
4. Wanted better home
5. New job or job transfer
"This infographic was developed to give readers a quick look at migration patterns and the reasons why people move," said Jack Griffin, president & COO of Atlas World Group. "This information is of particular interest to employers, realtors and human resource professionals as they make business decisions."
About Atlas Van Lines
Atlas Van Lines, a national moving company, is the largest subsidiary of Atlas World Group, an Evansville, Ind.-based company. Atlas World Group companies employ nearly 700 people throughout North America. Nearly 500 Atlas interstate moving agents in the United States and Canada specialize in corporate relocation, household moving services and in the specialized transportation of high-value items such as electronics, fine art, new fixtures and furniture. Visit http://www.atlasvanlines.com for more information on the company and Atlas agents.
###