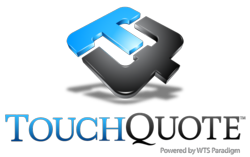 TouchQuote will allow Pella sales reps to streamline the in-home quotation process, enabling an enhanced customer experience - and better close rates!
Middleton, WI (PRWEB) September 08, 2011
WTS Paradigm, the innovative software provider for configured building products, announced the debut of TouchQuote, a mobile selling tool used on the Apple iPad®. TouchQuote is the selling solution for construction and remodeling sales consultants to use in-home, on job sites, or wherever building products are sold. The tool will assist with the quoting and ordering process to make the in-home visit quicker and easier than ever before. "We see TouchQuote as a useful tool that will allow greater flexibility and mobility in the field," stated Andy Borcherding, Business Information Manager at Windsor Windows & Doors, a division of Woodgrain Millwork. "We are excited to see how Paradigm has chosen to stay on the leading edge of this technology."
TouchQuote lets sales consultants quickly and seamlessly present their product line, gather information about the job, configure and price units, and close the sale using an iPad. "We have been looking for a solution to generate proposals for our prospects in their home quickly, easily, and professionally and also create other efficiencies within our production department," said Timothy Rewolinski, President/CEO of Reliance Home Exteriors. "With this application we can guide the salesperson through the quoting process reducing the chance for important details being missed, and by having immediate access to what was sold we can shorten the sales cycle allowing for more projects to be installed in less time. We are excited and looking forward to implementing the application created by WTS Paradigm."
TouchQuote users will see value from the following features and benefits:

Elegant presentation capabilities on the iPad to display products and the company story
Configuration and pricing technology optimized for the mobile touch experience
Sales consultants can focus on the customer and the sale and not be distracted by calculating pricing and options
Prices that are created using logic customized for each product line
Comparison quoting that is generated in only seconds, which lends to easy upsell capabilities
Data gathering that provides a more streamlined, in-home sales process
Agreements that can be printed out or emailed to the homeowner on the spot
Sales managers can ensure consultants are using the best product and process on the market
CRM integration that reduces data entry on the iPad
Information collected using TouchQuote integrates seamlessly with other WTS Paradigm systems
"TouchQuote will allow Pella sales reps to streamline the in-home quotation process, enabling an enhanced customer experience - and better close rates!" said Ryan Davis, Sr. IT Manager at Pella Corporation.
"We have made a tremendous investment in this product because we understand it is extremely important to provide the industry with tools to increase sales," said Nathan Herbst, CEO of WTS Paradigm. "TouchQuote is an industry changing tool that can be used across all sales channels."
TouchQuote will be ready for release later this year. For more information, and to stay up-to-date with the latest developments, visit http://www.touchquote.com.
Apple and Apple iPad are registered trademarks of Apple Inc., registered in the U.S. and other countries.
About WTS Paradigm
WTS Paradigm is the established leader in configuration technology for the building products industry. They have developed the most advanced software and their technology solution has gained acceptance across all sizes and types of manufacturers and resellers. The core of WTS Paradigm software is the product Configurator, which is embedded in the CenterPoint program to facilitate the quoting and ordering process. Orders entered through CenterPoint flow seamlessly into their manufacturing software solution, MasterPoint. For more information, visit http://www.wtsparadigm.com.
# # #