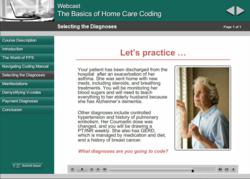 Accurate coding is vital to every successful home health agency, and these new courses really cover in detail everything caregivers need to know. – Ryan Sparks, General Manager and VP of Enterprise Sales for Care2Learn
Tampa, FL (PRWEB) September 08, 2011
Care2Learn, Inc., the leader in online home health CE and compliance training for post-acute care professionals, announced recently the release of two new home health CE courses that provide a detailed look at diagnosis coding for home care and its role in improving facility reimbursement and patient outcomes. Basic Home Care Coding (1417) and Intermediate Home Care Coding (1418) offer home care professionals more than 10 hours of critical home health CE content written by renowned author and educator Sharon Molinari, RN, HCS-D, COS-C.
"Accurate coding is vital to every successful home health agency, and these new courses really cover in detail everything caregivers need to know," says General Manager and VP of Enterprise Sales for Care2Learn Ryan Sparks. "With 11 hours of combined content written by one of the top experts in the industry, they provide an in-depth look at current coding guidelines and terminology in order to ensure the best possible outcomes for both the patient and the facility. We're really excited to be able to offer them to our Care2Learn students."
Basic Home Care Coding is a 5-hour introductory level online home health CE course designed to help students understand the critical role of diagnosis coding for home care and the importance of coding accuracy to ensure optimal reimbursement and patient outcomes for home health services. This course discusses the basic fundamentals needed for coding accuracy as based on the official coding guidelines and the OASIS-C guidance manual.
Intermediate Home Care Coding is a 6-hour intermediate level online home health CE course designed to study the ICD-9-CM diagnosis coding system with a focus on home health coding rules and scenarios. Course content looks at the use of Appendix D, including official coding guidelines and conventions, as well as coding for specific medical conditions and diseases typically encountered in home health situations to help caregivers ensure accurate and complete coding.
For additional information about the new home care coding courses, as well as the complete Care2Learn online CE and healthcare compliance training library, visit http://www.Care2Learn.com.
About Care2Learn
Founded in 2000, Care2Learn provides online continuing education solutions for the post-acute care industry. The Care2Learn course library includes more than 800 accredited course hours delivered to more than 395,000 healthcare professionals in all 50 states. Acquired by RedVector, the premier online CE provider for the design, engineering, and construction industries, Care2Learn continues to grow by offering customized online eLearning universities to companies wishing to offer training and education solutions to their entire staff in a cost-effective, easy-to-use, and readily accessible manner. For further information, visit Care2LearnEnterprise.com.
###