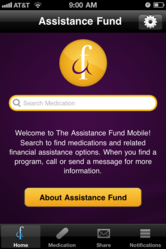 "Through the mobile app, The Assistance Fund gives healthcare professionals the ability to identify assistance programs for the prescribed specialty medication and to be able to immediately inform the patient of such programs."
Orlando, FL (PRWEB) September 09, 2011
The Assistance Fund announces today the release of its mobile application, AssistFund, which offers access to information about prescription drug assistance programs and the medications supported by such programs. Jeff Spafford, Executive Director of The Assistance Fund, makes this application available as a continuation of the organization's mission to increase awareness of assistance programs that support specialty therapies for chronic and life-threatening illnesses. Specialty medications are costly even with health insurance and often patients need financial assistance for the out-of-pocket costs associated with these therapies. Without such assistance, many patients forego the medications that their physician has prescribed because they cannot afford their portion of the costs. For patients without insurance, often specialty medications are simply out of reach without the benefit of a manufacturer-sponsored assistance program.
Through research and daily interactions with Americans living with chronic and life-threatening illnesses, The Assistance Fund identified a need for a technology-based resource identifying financial assistance options. As Mr. Spafford states, "Technology is a critical element of everything we do within the services that we provide through our organization. We know that approximately 40% of healthcare professionals utilize mobile technology in their practice for various purposes including prescribing and diagnosing. We also know that many times following a decision to prescribe a specialty medication that a patient will encounter difficulty with affordability." With technology increasingly playing an integral part of healthcare, The Assistance Fund designed the mobile app.
Mr. Spafford continues, "Through the mobile app, The Assistance Fund gives healthcare professionals the ability to identify assistance programs for the prescribed specialty medication and to be able to immediately inform the patient of such programs." The app lists programs based individuals' insurance coverage – private coverage, government coverage and for persons without insurance coverage. Anyone can navigate this user-friendly app to search for available assistance from The Assistance Fund, other nonprofits, and manufacturer-sponsored programs. AssistFund Mobile enables the user to email or phone the program on demand. Users can also receive message alerts and notifications from The Assistance Fund, such as when we are accepting new applicants for programs. The version released today supports the iPhone, iPad, and the Android version. "This is our first version and we anticipate the capabilities and information provided via the AssistFund Mobile" to continually evolve in the coming weeks and months", adds Adam.
For more information on AssistFund Mobile please contact Cindy Padgett, Director of Fund Development, at 407-367-4483 or by email at cindy
(dot)padgett(at)AssistFund.org. To download the app, visit iPhone's App Store or Android's Market.
About The Assistance Fund:
The Assistance Fund is a leading 501(c)3 nonprofit organization that helps to make advanced therapies and diagnostics available to the underinsured. More than just a funding resource, The Assistance Fund provides a continuum of services for those with chronic and life threatening illnesses. Our innovative programs make access a reality, putting us at the forefront of what matters most, taking care of patients.
The Assistance Fund, Inc.
5323 Millenia Lakes Boulevard, Suite 200
Orlando, FL 32839
###